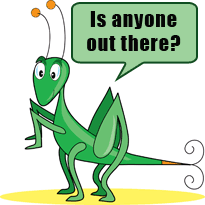 A Twitter user, (we'll call her Jane Doe), sent me an email last week because she doesn't understand why she receives very few @replies and RT's (retweets) on Twitter.
Just for the record, she is using Twitter to promote her craft related blog by networking with other people in her niche and announcing her blog posts.
To begin my investigation, I visited "Jane's" Twitter landing page and instantly noticed that 65% of her tweets were related to her personal, day-to-day activities.
Another 30% were dedicated to her blog updates, and the remaining 5% were posts about random web-related tidbits.
So even though she claims to use Twitter for site promotion, you wouldn't know it by examining the balance between her personal and site related tweets.
Be Careful of Twitter Vanity
It's tempting to make a lot of your tweets about yourself and what you're doing.  However, if you're using Twitter for site promotion, most people are following you because they are looking to see how you will provide value to THEM.
So if too many of your tweets are about you, it can get monotonous and people may start to ignore you.
In Ken Evoy's first e-book, Make Your Site Sell (which is now free) Ken reminds us…
No one cares about you until they know how you can help them.
Sounds a bit blunt, but it's true.  (I love Ken's tell-it-like-it-is approach.)
Remember, most of your followers don't know you personally, so the mundane updates may create a "who cares" attitude among many of your followers.
Some will ignore.  Others may even unfollow you.
As I've said in other posts about Twitter, a fun or personal tweet is fine every now and then, but balance is key.
Engage Your Readers
One thing I've noticed is that people LOVE to give their opinions.
Also, when you ask a question or poll your audience, it makes people feel important and connected with you.
Not to mention, it's a great way to generate ideas and drum up a few interesting TWIT-versations. (Did I just write that?) 

Are Your Tweets Insulting?
Not all of Jane Doe's tweets were self related.  There were a couple that provided links to other resources.  However, there was one that really caught my eye.  It was a link to download Internet Explorer 8.0.
There was no explanation. No reason why you should update.  Just a link to the download as if it just launched this morning.
Providing a free resource link is fine, but when it is outdated or out of place, this can be confusing or insulting.
Sure, there may be a few IE7 users who may find this useful, but as a general rule, make sure your information is current and useful to the majority of your followers.
Engage With @REPLY
This sort of goes back to the vanity point above.   If you're using Twitter for site promotion, it shouldn't always be about you.  It never hurts to reply and make conversation with the people you are following.
If someone posts something interesting, retweet it.  Or take the time to tell them how much you enjoyed their post.
People take note and appreciate it when you send them an @reply or RT their tweets.  These people are more likely to reply to you or even RT some of your tweets in the future.
Lighten Up
One thing I like about Twitter is that the environment is very casual. When you do post something not related to your site/business, make it fun or witty. It's a great way to display your personality.
Don't take yourself so seriously.  Crack a joke one in a while.  It reminds people you are a human and not just a 48×48 pixel avatar with a Twitter account.
Be Valuable
There are many ways to show your value as a Twitter user…
1) Give away relevant, useful freebies that are only available through Twitter. (Relevant and useful are the key words in that sentence.)
2) Post industry news that your audience will find interesting.  Know your audience and keep them relevant.
3) Use Twitter to announce your new content and videos
4) Keep selling to a minimum
You Can't and Won't Please Everyone
Let's face it.  People follow others on Twitter for different reasons.  Your follower's expectations will always vary.  Some may be OK with your mundane updates, others may not be as patient.
You're never going to please everyone all the time.  But if you follow the guidelines above, it will keep many of your followers interested and engaged.
We could sit here all day and discuss the best ways to use Twitter for promotion, but I bet most of you would agree that it starts with providing value to your followers.
Start with that, and there's less room for error.  Also, people will be much more accepting of your less desirable Twitter habits.