Are you ready to learn? Enroll and I'll see you in class!
Create a WordPress Site, Find a Niche & Earn With Affiliate Marketing
This is my most complete course on website building, finding a "good" niche and making money by recommending relevant products (affiliate marketing). It's great if you need help getting started!
What's cool is most of the principles in this course will help you make money from any kind of website because I teach you how to create your site, find a niche and build yourself up as an authority online.
Make Money With a Free Affiliate eStore – Just Upload Images and Earn!
What a convenient way to monetize your website or social media following! You simply create the image, upload it to your free store, choose what product you want to add it to, set your commission and earn!  You can see my successful store here.
If you've always wanted to sell products, but don't want the hassle of shipping, product creation and customer service then Spreadshirt is for you! You're not just limited to shirts. You can sell hats, mugs, mousepads, phone cases and more.
How to Customize Your WordPress Theme With Ease
This started out as a short course on how to tweak your theme. Now it's a full-blown WordPress course for people who want to learn how to use the platform to create their sites AND customize their pages.
It's a perfect course if you are intimidated by WordPress and/or you want to create more attractive landing pages.
Create Web Images Easily With Photoshop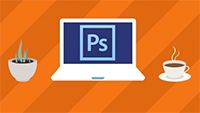 This program has been a Godsend to my business, and I know it will be to you too. Unfortunately it's often seen as a difficult-to-learn program for Photographers and Web designers. That's a myth.
If you're a blogger or site owner who just wants to save money and have the freedom to make attractive images for your site and social media, you can also use Photoshop for that.
I also use it to create images and make money with programs like Spreadshirt. I also create infographics and drive lots of traffic from Pinterest.
If you don't have Photoshop, no worries! You can download a free, 30-day trial. Create your images during that time-period and save money. 🙂
Design Your eBook With PowerPoint
Forget those boring black and white ebooks people often create with word processing programs. Ad some pizazz to your ebooks and impress your visitors by using PowerPoint.