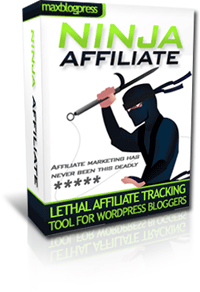 This is a very simple way to generate more revenue from your blog posts and pages.
The Ninja Affiliate plugin (affiliate link) will automatically hyperlink keywords you choose to their respective links.
For example, when I type The Genesis Theme, it automatically creates a link to my affiliate URL.
And what's even better is the plugin will update all my keywords on pages I created prior to installing the plugin.
So let's say you just became an affiliate for a certain product.  Rather than having to go back to all your posts and pages to create links, the Ninja will do it for you.
It also installs a shortcut on your page/post editing toolbar so you can insert and change the actual text that shows with the link if you desire.
More Features & Options
Tracks your clicks and reset stats at any time
Choose to nofollow the links
Expire the links on any date
Modify the text that shows in the browser status bar when people hover over the link
Backup/restore links
Open link in new or same window
Use With Caution
Even though I really love this plugin, just keep in mind that if you ever need to uninstall it, all your links will be removed.  That could be a pain to add them back.
It's a risk I've decided to take, but I try to limit the number of links I use it on.  It's easy to go crazy and hyperlink so many different words, but that could prove disastrous if you have to remove the plugin for whatever reason.
The good news is, it does not change links you've already manually created.  So at least those would be saved.
I love it and it's definitely worth the price I paid.  It's probably one of the most convenient plugins I own. 🙂