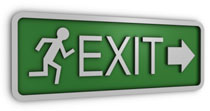 I was reading a hair blog last week (hosted on Blogger) and got so frustrated with the navigation, I left.
It led me to think of things I don't like about some blogs.
1) I Can't Find Your Content
I stumbled upon a very well-written article about hair last week.  The content was so juicy, I immediately longed for more.  Problem was, I couldn't find anything else the author had written.
No archives.
No recent posts.
No categories.
Nothing but the last post on the homepage.
The left and right navs were flooded with ads, social networking widgets, and other random links and buttons that trashed the experience.
Maybe the recent posts were buried there somewhere, but I didn't stick around long enough to find them.
2) You Make Commenting a Pain
What if I don't have a Blogger, OpenID or Discus account?  Now what?  What happened to the option where I can leave my name and URL so I can comment?
I notice this more with Blogger blogs.  To prevent spam and anonymous trolling, many people disable the option to comment with your Name/URL.  Instead, you need a profile with various sites (Blogger, Discus, etc.) before you can comment.
I can understand wanting to prevent spam, but don't make it too difficult for your readers to join in the conversation.  Most people aren't going to leave your site to sign up for an account just to comment on your blog.
Use anti-spam plugins like Askimet (if available for your blog platform) and take advantage of comment moderation so you can review every comment before it's published.
3) I Don't Like Flying Things
Are you serious?  Is this some video game?
You're really going to make me chase that flying subscription box around the screen with my mouse?  And now you hide the close function so I can't get rid of it?
Oh I get it.  I have to enter my e-mail and subscribe to get the box to go away?  Ahhhhhhh, I see.
OK…
Bye!
P.S.  The exit pop-up asking if I'm sure I want to leave looks desperate and is equally annoying as the flying e-mail form.
4) Your Posts are One Giant Paragraph
If you befriend one piece of HTML markup, make it the paragraph tag (<p>).
Ironically, writing in paragraphs is one of the first lessons we're taught about writing, yet for some strange reason many people don't apply this lesson online.
Remember, your readers love to scan and probably don't like headaches.  Chopping up your piece into 3-4 line paragraphs will make it easier on their eyes.
5)  You Seem Greedy
I make a conscious effort to keep selling to a minimum on this blog.  Now, I'm not saying there's anything wrong with selling.  Of course, everyone has a different strategy and you should do what you feel is best.
I just think you should watch your sell/inform ratio. Unless you have the kind of site where people expect to spend money (shopping, charity sites, etc.), you really should be conscious of how much you sell.
It's interesting that I receive so many questions about building backlinks, making more money, etc., yet no one ever asks me how to build credibility.
'Cause let's face it.  Without it, you aren't really going to sell a whole lot.
There's still too much "build and they will come" and "advertise and they will buy" mentalities online.  If you aren't taking the steps to prove that you are…
1) Credible
2) Can be trusted
3) Genuinely interested in helping others…
You will have some tough days ahead in the selling department.
—————————————————
What causes you to leave certain blogs?