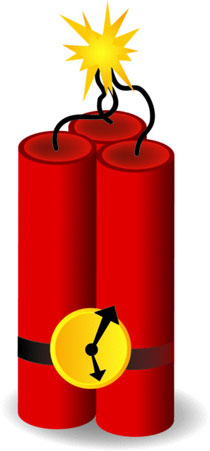 I have to be completely honest with you. I am brimming with self belief.
As an experienced business owner (albeit offline), I have no doubts about my capabilities and am 100% sure I can be successful at anything I turn my hand to.
When I started in this business (that being the business of Internet Marketing), only a few short months ago I was convinced I would be one of those dancing from the rooftops singing, "I started making 5 figures a month in 30 days".
After all, I'd read so many reports of people who had 'apparently' done that. If they could, then so could I!
Oh, boy did I have my head in the clouds!!! I'm sorry to tell you guys, but don't believe a word of the hype – this business is tough! Why do you think that out of the millions of people who start online businesses every day, only a few really make it big.
If it was that easy, we'd all be millionaires by now – right?
Starting a business online is just like any other business, it takes energy, focus, resolve, persistence and a determination to succeed no matter what.
So let me run through the key areas and where the pitfalls are;
Stumbling Block 1
Research – Once you've decided what niche you're going to be in you need to research your competition and your market right? But research can be tedious and confusing. All this talk about keywords and SEO. Also there's so much information out there, where do you start?
I spent hours researching keywords and 'exact match' terms in the SERPS (search engine results pages), learning what percentage of keywords to use in copy, what search engines are looking for, how many people are looking for what I'm offering etc.
It bored me, it frustrated me, it cost me money in all the 'Magic Way to Research Your Market' tools I bought and worst of all I'm not even focusing on SEO now as part of my strategy (more on that later).
So my tip to make research fun, far more interesting and to find out everything you need to know about your market, your competition, and keywords…. Forums!
Forums are brilliant! There are forums for practically every niche in the world! You meet like-minded people, engage in conversation, ask loads of questions and reap all the information you require while having a good laugh, daily encouragement and making some friends. Just go to google, type in your niche + forums and they'll spring up on the page in front of you. Go register and get chatting!
Stumbling Block 2
Creating an opt in page, a blog, recording a video and getting it all live on the web.  I have to say this frightened the life out of me. HTML, CSS, FTP – What??????? – "It's too hard"!!!
Well, actually it's not that tough and the beauty of the net is that all the information you need to get your head round this stuff is right under your nose. I'm afraid though that you are going to have to take a little bit of time learning some of the basics.
Yes, you could outsource getting your web pages built, but that means you can never make an amendment or add a quick image or upload your own videos etc and it will end up costing you a lot more in both time and money.
I'm not suggesting you become a programmer (I'm certainly not – I still don't know much about CSS – cascading style sheets – something that makes your web page look nice!)
Seriously though, about 4 months ago, I had absolutely NO IDEA how to do any of this and now, I can upload a video, create a web page and get it live on the web in under 10 minutes. Once you know how to do this, it's easy.
So, how to get to this stage – well I have 2 ways:
1 – Find a very good mentor who is teaching this stuff, that's how I did it. I found someone who is excellent at teaching how to create your first website and I learned all the basics.
2 – Look on You Tube – there are thousands of people publishing 'how to' videos every day teaching you exactly this, step by step, click by click. YouTube is a resource I utilize daily!
Stumbling Block 3
Driving Traffic. Oh boy is this a biggie! I believe this is the toughest part of the business. Why? Because you have to be doing something every day to increase and maintain a presence on the web.
Now when you're a lot bigger and word of mouth has joined ranks and you have a reputation and some well tested systems in place, it will snowball, but when you're starting out, you have to keep testing and measuring, testing and measuring every day and find the systems that work for you.
Some days you'll have a few subscribers, some days you'll have none and each time you spend time testing a new strategy and it doesn't work, you have to keep going until it does work, or test another strategy.
This is the point at which I believe many "would-be" internet marketers lay down their hats. Because you have to just keep going, keep pushing, day after day, testing, trying, creating relationships, writing articles, making videos, posting tweets, posting blogs, etc., etc.
There is no quick win solution here and don't believe all that garbage about 'this piece of software will bring you 1000's of subscribers overnight'. It doesn't work like that. YOU have to create momentum and drive the traffic to you. YOU have to make it worth the traffic coming in your direction and YOU have to give them a reason to want to do business with you.
But there is light at the end of the tunnel! If you stay focused and keep pushing forward you will succeed – there is no doubt. This is where that persistence and resolve comes in!
Here's a tip for making this part of the journey a little easier. Find someone to work with. Someone who's roughly at the same level as you, preferably a few steps ahead. Skype regularly, exchange ideas, talk about your frustrations and encourage each other. It works wonders!
Ok so once you've found your niche, researched your market, built your 'engine' and driven traffic to your site, you can go on to build a fantastic relationship with your subscribers, offer quality content and loads of value and start to make money online. But that's another article altogether!
Good luck with your business and never give up!