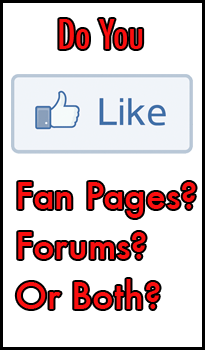 I received an interesting e-mail the other day from a lady named Carrie.  She asked…
I want to create a vBulletin forum.  I already have a pretty active Facebook fan page, so I'm thinking of using that audience to announce and promote a new forum.   Should I stick to my fan page, switch to a forum or use both?
First of all, let's start by looking at the advantages of owning a FB fan page:
1) They are convenient.  Millions of people already have FB accounts, so joining is easy.  All people have to do is "Like" your page to begin chatting away.
2) It's free (unlike vBulletin, for example)
3) The learning curve for managing a fan page is not steep
4) Fan pages have a separate discussion area
Now, let's look at the disadvantages…
1) Since it's hosted on Facebook's servers, you don't really own the content on your fan page like you would with a self-hosted forum.
2) There are posting limitations (People can't upload file attachments, send private messages, and take advantage of other common forum features.)
3) You can't create categories and post organization is limited, so the older posts get buried very quickly.
Since both fan pages and forums options have their advantages and disadvantages, it really boils down to your commitment and goals.
Running a forum is a lot of work.  First of all, monitoring automated and manual spam can turn into a full-time job.  Second, you have to make sure content is posted in the right category, handle any problems users may have with their accounts,  and you have to keep the software up-to-date.
On The Other Hand…
There are a lot more monetization options with a self-hosted forum, so it may be worth the extra work if you are looking for additional ways to monetize your growing community.
There are also SEO benefits.  Seventy-five percent of my daily forum traffic comes from the search engines. That's because every new thread is like a web page in the search engine's eyes.
So at this moment, Website Babble has over 15,000 "pages."  And since content is created quite regularly, the posts/pages are indexed and ranked by the search engines very quickly.
And if you have an SEO-friendly forum script, that may help even more.  I use the VBSEO plug-in for my vBulletin forum and it optimizes each thread so it's more search-engine friendly.
So Carrie, there's nothing wrong with having both.  I certainly wouldn't abandon your active fan page, however.  You also cannot assume that all those fans are just going to transfer over to you forum.  Many people will prefer to stick with your fan page because of the convenience of already having a FaceBook account.
Do you have any other methods of promoting this forum?  A static website/blog?  I learned the hard way that it takes a LOT of traffic to generate steady activity to a forum, so make sure you're prepared to promote it heavily.
2) Examine your goals.  What are you trying to accomplish with a forum that your fan page cannot?  If having more monetization options and control of the content is something that's important, then a forum may be the way to go.
3) Don't underestimate the amount of work that goes into running a forum and determine if it's worth your extra time.
What do you guys think of using a fan page to launch a forum?  Also, are any of you using your fan page in place of a forum because of the convenience and ease of managing it?  Any ideas for Carrie?