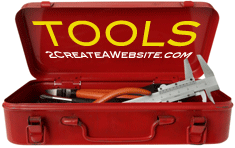 I am often asked about what tools I use for my online business, so I thought I'd create a page that lists many of the tools and products I use for website design, promotion and video.
This is not an exhaustive list by any means, but the ones I feel have the most impact and use the most.
Some of the links are affiliate links.  That means when you click and buy, I earn a commission.  I make no secret this blog earns me money, but you can rest assured I only recommend products I generally like and use.
Web Design

If you are redesigning your site or installing a new theme, you definitely want to stop here. This site will show you how your site appears on all the popular browsers and then some.
And if you have a local HTML page that is not live, you can even upload the page to test it before launching.  Thanks to Paul of Technically Easy for the recommendation.

This is the theme family I'm using for all my WordPress sites now.
StudioPress is in the process of converting all their themes to HTML5.  What that means is they will be mobile responsive (your design re-sizes nicely when viewed on mobile devices) and the themes will support schema markup.
Schema lets you mark up your content so you can display "snippets" of information related to your site in the search results.   StudioPress is ahead of the game in this area.
Here's an example.
Joost of Yoast.com is using schema markup to show where he's going to be speaking next.  Notice how the next event shows up in the search results…

Most of the StudioPress themes (the ones that are tagged with the HTML5 logo on this page) support schema markup so you can do the same.  They are currently working on converting all of their themes over to HTML5.
Right now I'm using their Prose Theme.  It's mobile responsive and also probably their best theme for beginners due to the number of options you can change without editing code.

The perfect complement to any Genesis theme, and it's free!  Add your own custom code to any section of your blog (before/after header, before/after sidebar, before/after footer, etc.) without having to fumble with the theme files and PHP code.
Want to add a banner below your header?  No problemo.  Just paste your code in the box marked "After Header" and you're good to go.  Plugins like this really take away the intimidation that often comes with theme customizations.
More themes should create plugins like this to make editing WordPress themes much easier.  Unfortunately you must have a Genesis theme to use it.

I use this design tool if I need to create simple static HTML sites, but it can also be used to make your own WordPress theme.
This editor gives you maximum control over every element of your site — from the width of the site, header, columns to the colors, menu styles, fonts, shadow effects and so much more.
Watch my tutorial video below…

I was so happy when a subscriber introduced me to this free software. You can install WordPress on your Windows computer and design your site on your computer before publishing.  Nothing like having a local testing platform!
Watch my video on InstantWP below…

If you own a website, no doubt you've had to tinker with hex colors at least once.
They are the 3 or 6 digit codes that control the colors of various parts of your site (links, background colors, etc.) My tools will help you choose a hex color and even a color scheme if you wish.
You can also use browser plugins/add-ons like Chrome's Eye Dropper extension.

Have you ever wanted to create a clean landing page on your blog that you could easily customize? Well, thanks to Premise, now you can.
This is a plugin by Copyblogger Media that allows you to setup landing pages in a snap. I used it to setup my WP Starter Tips landing page.
Notice the page is hosted on this blog, but has a completely different look.  Without this plugin, you'd have to create the page manually or hope your theme has a blank template page that has the layout you desire.
You can also create full-blown membership sites and/or sell digital products from this plugin.  I've yet to try the membership feature but looking forward to testing it out soon.
Promotion

Unlike many bloggers today, I'm not very reliant on automation, but when I do use it, HootSuite is my application of choice.  It's great for scheduling posts and finding other sites in your niche.  I use the free version.

This is one of the most popular email management systems online. Send one-off email broadcasts, blog broadcasts (automated mailouts of your new blog posts) or setup an autoresponder series.
The biggest regret I have about my business is not learning how to master email marketing earlier.
Everyone always says "The money's in the list", but that's only true for people who learn how to make their lists convert… and that takes a lot of trial and error.
Be sure to read the following post with a simple email marketing strategy…
Penguin Slapped You.  Your Traffic Tanked.  Now What?

This is a WordPress plugin that creates a notification bar on top of your theme.  This is a great way to announce promotions and special events.
Foobar is extremely flexible and even allows you to rotate multiple notifications and target them to different pages.
Video

This is the video camera I use for videos where you see me talking.
I love this camera, but the downside is it does not have an external mic input.  I want to be able to use lapel mics for better sound quality in the future, so I am in the process of buying a new camera and will never make that mistake again.

This is the software I use for screen recording videos.  It's pricey at $300, but there are much more cost-friendly options like CamStudio and Jing.
Obviously you get more features with a paid tool, but you may discover the freebies are enough!

This is the program I use for editing (intros, outros, etc.) and final production.
It's the lite version of Final Cut Pro, the premium software that is often used by major movie studios.
You can do very precise edits, green screen, animation, etc. but it's not for beginners.  Fortunately there's a wonderful free tutorial that I used to learn the program.
If you're on a budget iMovie (Mac) or Windows Movie Maker (Windows) may work just fine.  Both programs come free with their respective platforms.
If you're looking for a mid-range priced product, Adobe Premiere Elements is a very popular program used by many YouTubers.

In some videos I draw on the screen for illustration purposes.  I use a Bamboo Tablet by Wacom.  It works with Photoshop, Corel and other programs, but it also comes with software in case you don't already have a compatible graphics program.
You can see me using this tool in the video below…
And here's the video where I show you how it works…
They have a few different ones at various price points.  This is the one I use.