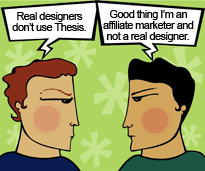 When I promote systems like Site Build It! or WordPress themes like Thesis, I've noticed it doesn't sit well with some people.
A lot of the critics I'm referring to are programmers and designers.
Many of them believe that programs like SBI! and Thesis provide help and/or tools that you can get or learn for free (or cheap) by simply Googling the information or buying a couple of "how to" books.  Why buy Thesis when you can learn CSS from scratch?
Now, I have to admit this. Even if you set out to create your own site and use tools like Site Build It! or Thesis, you should still learn the fundamentals of HTML and CSS.
I have a basic understanding of both languages and I'm very glad I do because it has helped me greatly along the way.
However, what some people need to realize is not everyone wants to learn coding from scratch, and fortunately it's not necessary to have success online.  Coding your site is definitely a part of it, but the other piece is marketing.
There are many 6-figure Bloggers and Webmasters out here who aren't designers (I'm one of them).  We choose to outsource some or part of our work and use products like Thesis so we can focus on what we enjoy and do best.
I personally love writing and marketing much more than I love sitting and staring at code.  So tools like Thesis allow me to get things done faster so I can focus on what I truly enjoy.
I wouldn't expect a product like Thesis to provide much value to a programmer or a designer who writes CSS from scratch.  But some people find great value with it.  I recommend it because I know there are people just like me.
Sometimes paying for tools is fine if they provide individual VALUE, and everyone values different things.
Below is my response to criticism often handed out by designers and programmers when they see people using or promoting web tools that make life easier for those of us who don't care to become certified programmers…
UPDATE: For the record, I don't let these people get to me.  I made this video to make the point that you don't have to become a programmer to make a lot of money online.
So in a sense, these critical comments actually gave me inspiration to create this video so I can teach others.  It's about turning negativity into opportunity and education.  😉