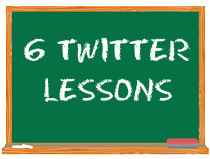 Even though I've had a Twitter account for a while, I didn't become active until about 6 months ago.  Here are a few things I've learned.
Keep in mind, many of these tips are only relevant if you use Twitter for site or blog promotion.
1. Your Last 20 Tweets Say a Lot!
When someone goes to your homepage on Twitter, the first thing they see is your last 20 tweets (your recent Twitter stream.) So you have 20 chances to sell them on following you.
You want your Twitter stream to exude value and give potential followers a glimpse of what they will get as a follower.  You will be surprised at how many people use your recent Twitter stream to make the follow decision. I sure do.
Take a moment and look at your last 20 tweets.  Now look at them from the viewpoint of a potential visitor who may be thinking of following you.  See anything you might want to change?
Note: A lot of people use Twitter clients instead of Twitter.com, so they may see fewer than 20 tweets when they view your Twitter landing page.  Keep that in mind too.
2.  Make Your @replies Useful to Everyone
When you reply to someone, make the most of that reply so other followers can benefit.
If someone asks me what software I use to record my screen, I could simply reply with…
@username Camtasia Studio.
There's a slight problem with this answer. My followers did not see the original question. So even if they know what Camtasia Studio is, they have no idea what I'm talking about unless they click the person's username to find the question.
A better reply would be…
@username I use Camtasia Studio for my screen recording videos.  You can download a free trial here…
Not only have I helped a curious follower, but I've provided information that my other followers may find useful.
Thorough replies like this also add value to your recent Twitter stream as I mentioned above in #1.
Note: Twitter made an update in May so that when you begin a tweet (reply) with @username, the only people who see it is the person you are replying to and anyone who is following both of you.
So if you want everyone to see your reply make sure you do not start the tweet with @username.
3.  Use a Customized Landing Page
I used to link to my blog in my Twitter profile, but realized that doesn't tell potential followers a lot about me.  At this level, most people really just want to know who you are and why they should follow you.
So I created a Twitter landing page to give people a quick overview of who I am and what they can expect if they follow me.
Some will argue that it's best to link to your homepage for the "link juice", traffic and earnings potential.  I guess my approach is more indirect.
I think it's important to gain new followers and build credibility through content.  There will be plenty of time to promote my sites as I build up credibility.
Most people who buy from your site are going to be visitors who have grown to trust you — not potential Twitter followers who are just trying to figure out if they should follow you or not.
Get the follower now.  Make the sale later.
4.  Take Advantage of Direct Messages
If you get a lot of questions on Twitter, you don't have to reply to everyone publicly.  Not to mention, a bunch of replies can clog up your Twitter stream.
I have been using direct messages a lot more since I read Marko Saric's book, Twitter Marketing: How to Go Viral on Twitter, where he encourages you to "pick your tweets wisely" and to be careful about tweeting too much as it may become "white noise" to your followers.
5.  Mix It Up!
No one wants to follow someone who continuously brags about themselves or promotes their site in every tweet. (Yawn!)
Learn to mix it up and give your Twitter stream some variety.  Poll your followers, engage them, offer some words of wisdom, be funny. The key is finding the right balance.
Never lose sight of the fact that your goal is to provide VALUE to your target audience.  However, a fun or off-topic tweet here doesn't bother most people, and many welcome the variety.
6.  Twitter is Not the Place for Hard Selling (For Most People)
If you're going to promote products, affiliate links, etc. you really have to make sure your brand is solid and people respect you.
I don't do a lot of affiliate link dropping on Twitter.  Quite honestly, I'm not comfortable with it.
I prefer to let my tweets do the PREselling and hope that my earned credibility will turn my followers into loyal site visitors and customers in the long-run.
Nothing wrong with an occasional site promotion or affiliate link here and there, but you definitely have to choose your promotions wisely and build the credibility first.
What have you learned from using Twitter?