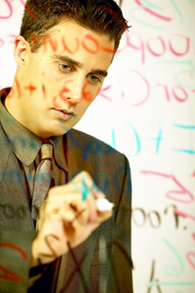 A lot of people feel pressured to make their articles a certain length.  As if, more words automatically equals more value.
That isn't always true.  In fact, more words can often make articles difficult to read and monotonous.
Brevity has its advantages…
1)  People are busy and subscribe to dozens of blogs and websites, so they often appreciate the quick read.
2) Attention spans are short (and getting shorter as technology grows).  Get to the point and the more likely they'll read/absorb your message.
3)  It's less writing for you.  Duh. 😉
Here are some tips to writing shorter, more concise and meaningful pieces.
1.  Keep your goal in mind
Don't write just because you feel you have to.  Every article should have a goal (inform, educate, sell, promote a download, build credibility etc.)   Be careful of babbling for the sake of babbling and not really saying anything.
When you finish writing, ask yourself,
Did this piece accomplish what I set out to do?
Am I getting to the message/benefit early enough?

That's a great way of checking yourself and keeping the article focused.
2.  Write shorter, active sentences
Look at these two sentences…
I have finished reading the book and it has really taught me a lot about what it takes to design a good-looking website.
vs.
I read the book and it taught me a lot about good web design.
Both sentences say the same thing, but the 2nd one is more concise and easier to read.  Imagine cleaning up an entire article and making more of your sentences active and concise. It will make a huge difference with the overall delivery.
3.  Watch your use of filler words
Words like naturally, usually, eventually, normally, possibly and really can junk up your writing and make it difficult to read.  Sometimes these words are useful, but just like anything else, you can overdo it.
We have a tendency to write like we talk and sometimes filler words are unnecessary.  This is something I have to check myself on all the time.
A lot of times we add these words because we are unconsciously trying to lengthen and improve our article.  But the reality is, they can disrupt the flow.
Sometimes longer pieces are necessary and there's no way to get around it, but most articles can be just as effective by trimming the word count significantly.