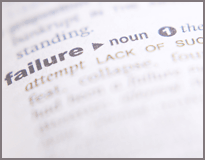 You can't deny the importance of goals.  They give you direction and something to shoot for.
However, the problem comes in when your goals aren't followed up with a strategy.
I've seen it too many times. People have great ideas for what they want their sites to accomplish, but they fall short when it comes to the strategy part.
A classic example that I see all the time is when people say they want to create a website to make money from advertising/sponsors, but they have no plan for how they will attract interested parties.
Making money from advertising is the long-term goal, but you first have to develop a strategy for how you are going to make your site popular enough so that people will want to advertise on your site.
People aren't just going to throw advertising dollars at you because you have a site.
First, develop a strategy that makes your site attractive to advertisers (you'll need lots of targeted traffic), THEN start thinking about setting your prices and selling ad spots.
I know this may sound elementary to many of you, but there are still too many people starting off on the wrong foot.  They have a goal to create a website, but don't take the time to strategize because they assume people will just flock to their site automatically.
Below is an example of a goal, followed by a potential strategy someone could use to obtain the goal.
Goal: I want to create an online store.
Strategy: First, I will develop a content website surrounding the theme of my store.  I will learn SEO (search engine optimization) to attract free, search-engine to my niche website, and use that site to funnel targeted into my store.
Lesson:  Any type of site lacking themed content that is not updated frequently, can be challenging to drive traffic to. (Unless you plan to pay for traffic.)  That is why many people choose to create content-rich websites to funnel traffic into the site.
Juggling The Task
Jim Nelson's website, JuggleNow.com is a great example of this strategy in action.
Jim knew it would be challenging to promote a brand new, stand-alone online juggling store.  He doesn't have the brand awareness or popularity of Amazon.com or any of the popular e-tail stores.  So he created a content-rich website about juggling to funnel traffic into his store using SEO.
In my opinion, this is one of the best ways to promote a new store if you are just starting and do not have an audience or brand awareness.
I implemented a very similar strategy with my forum, WebsiteBabble.com.  I used my content-rich, heavily trafficked website to 2 Create a Website to drive traffic to the forum because I learned (the hard way) that promoting a forum with no existing traffic base often yields poor results.
No matter if you have goals to create a forum, social networking site, e-commerce store, membership site or whatever your choice.  Take the time to learn how and why certain sites become popular.  Then develop a strategy to help you reach your goals.
Don't become so blinded by your long-term goals that you neglect to develop a road map for how to reach them.