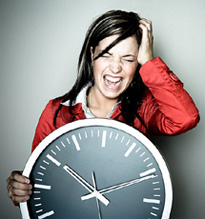 There are certain techniques that I put into the worthless, "busy work" category…
1) Spending several hours per day on directory submissions
2) Re-writing other people's content and submitting them to other sites
3) Posting worthless ("Great Post!") comments on people's blogs
Be careful of spending too much time on empty promotional techniques.  Measure the results of everything you do.
If you aren't seeing a direct benefit after a period of time, either adjust your strategy/technique or move on to something else.
For example, people are obsessed over obtaining links, but all links are not created equal.
Compare the person who spends 10 hours per week hunting for link exchanges to the person who creates one useful video or article that rewards them over and over again with traffic and sales.
I've learned that publishing one useful video is worth more to me than submitting multiple ezine articles on any given day. So the task that takes less time actually gives me the greater benefit.
If you take the time to evaluate and track everything you do, you may be shocked at how you can make better use of your time.  That way you can do more of what works and less of what doesn't.
Tweeting Just to Tweet
Many marketers are becoming obsessed with Twitter. Don't get me wrong, it's a great tool. But if you aren't measuring the results, how do you know how beneficial it really is to you?
Just because you have 2,000 followers and you tweet 10 times a day doesn't necessarily mean much if you aren't measuring the effectiveness.
For example, did you know that you can track many of the URL shortening services (bit.ly, etc.) if you sign up with an account?
That way you can see how many people are clicking on your links. Many of you probably don't do this, so you have no idea how your tweets are performing.  Doing this is useful because you can learn what type of tweets get the most clicks.
Then there's the "how-may-people-are-following-me" obsession.  This is not a popularity contest, folks. If your followers are not engaged in what you're tweeting about, then how valuable are those followers really?
Is there proof Twitter is helping you build credibility?  How about your sales?  How responsive are your followers to what you tweet about? Have you seen an increase in referral traffic from Twitter? Are you reaching your goals? Did you set any to begin with?
I don't do a lot of direct promotion on Twitter, but I do monitor overall responses and referral traffic. I've learned what kind of tweets generate the most interest from my followers.
Plus, the RT's (retweets) I receive from my followers alone have made Twitter worthwhile for me.
Even though I don't use Twitter as much as many marketers do, I've found a way to use Twitter that is worthwhile for the time invested.
So if you are tweeting just because you just feel like you should be doing it and you aren't measuring the benefits, you could be wasting your time.
Everything you do should have a strategy behind it and you should be tracking the results at all times.
You don't measure the success of Twitter or any strategy by how many followers or subscribers you have.  You measure it by how responsive the people are to what you publish.
Are you getting more sales?  More traffic?  Is it opening up new connections with others?  Are you building more credibility?  Do people respond and give feedback?
I hear people say things like "I've been promoting my site for 10 hours per day for the last month and I'm not seeing any results."
My response is always, "What are you doing and have you been measuring and tracking the results?" All busy work is not effective work, and unfortunately there are no rewards or honors for "time spent online."
How well are you making use of that time online? THAT is the key.   Successful marketers work smart.   They track and evaluate every task they perform.  Then they keep the best and drop the rest.
Is it time for you to do a self audit on your marketing techniques?