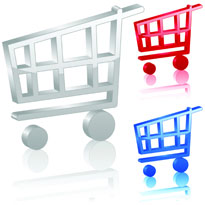 I was reading Darren Rowse's (ProBlogger.net) e-mail newsletter last night and he reminded me of a project I keep putting off…
Developing my own product.
It's easy to get comfortable as an affiliate and rely on your affiliate sales and AdSense revenue, but in my opinion, the process isn't really complete until you have your own product to sell.
Not only does it make you look more established as a blogger or website owner, but it allows you to develop another revenue stream that you have more control over.
One reason I've put this off for so long is the planning involved.  Even though I've had quite the success online, one weakness of mine is planning for larger projects.
This has never been something I enjoy doing, but if I want to develop and launch my own product, I will have to grow in this area.  I already have a few ideas and will be working on them in early 2010.
(By the way, your feedback and ideas are welcome as I continue to brainstorm.)
I'd love to start a discussion about this below.   If you are an affiliate and do not have your own product, have you ever thought about developing one?   And if you do have a product, how has it impacted your current business?
It's that time of year where people start setting goals for the following year.  Developing my own product is definitely going to be my top priority.
Thanks, Darren for reminding me to bump this to the top of my To-Do list. 😉