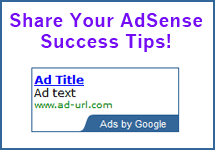 How well an AdSense unit performs on a site depends on several different factors…
1) The page the unit is on
2) Ad relevancy
3) Amount and quality of traffic to the site/page
4) Placement of unit
So I am by no means about to suggest that one size fits all in regards to the units. However, I would like to open up a discussion on what you've learned about placement.
I recently tweeted that I am having great success using the 300×250 Medium Rectangle unit alongside my YouTube videos. On certain pages, my click-thru rate has quadrupled.
I actually got this idea from Google. One of their optimization experts suggested this on my site over a year ago.  Not sure what took me so long, but I am now implementing this on more pages and the results have been fab.
Let's talk about what you've learned about placement and/or color experimentation.  Done anything different to give your earnings a boost?  Please share!