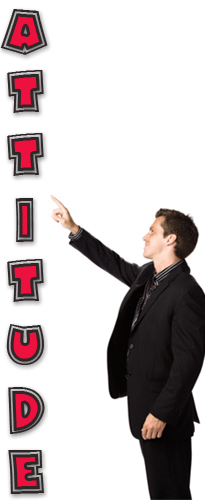 Some people just start out with the right attitude.
When it comes to making money online, they don't complain about how difficult the journey is.  They just go for it.
They are resourceful people who take the information you give them and run with it.
They have this adventurous, go-getter mentality and aren't afraid of failure.
They also understand the importance of enjoying the ride from the very beginning.
These people understand this is a process and find joy in more than getting that first AdSense check.
Know of anyone like this?  I do.  I got an e-mail from her a couple of weeks ago. Her name is Rachel and her site is GreenLeafeSimon.com.
I have her permission to post her e-mail on my blog, so I want to share it with you. Pay attention to the bold text. I did that for emphasis.
————————-
Hello Lisa,
No need to answer this email; this is just to say thank you.
Awhile ago, my sister lost her job and I got the bright idea to help her learn how to make money online. She wasn't interested and eventually got another job, but I got hooked!
I tried a few things and quickly learned most things on the net are scams. In the course of things however, I came across your website, 2Create A Website and I fell in love with the idea of having my own website. But about what? I love to write and all my life have wanted to be an author, so I got the idea to write serial stories and started a blog.
Then the idea grew and mushroomed as I found that although blogging was a lot of fun, the scope is limited. I took your sage advice and learned html and then css – and am I ever glad I did! I've never had so much fun in my life.
Designing, writing and marketing a website is better than any video game I've ever played (and I've played a lot of 'em) and Lisa, I want to thank you for all the help, tips and advice you've provided for people like me.
From Colour Hex-code Generators to Server Side Includes (I actually cried when I finally made this work) and all the Tutorials and Videos in between, Thank you! I don't think I could have done it without you. Many, many thanks!
Rachel
GreenLeafeSimon.com
————————-
As a person who receives hundreds of e-mails per week with complaints and problems about either building a website or making money online, I really treasure e-mails like this.
Notice the bold phrases in the e-mail above.  See a pattern?  They all involve some kind of enjoyment or excitement.
Rachel reminds me of myself when I started 12 years ago.  I wasn't making much money then, but there was something about the feeling of accomplishment and learning new things that was very exciting!  I always had that within me no matter how much I was earning.
I get asked about my "secret to success" all the time.  Some people think it's my writing style.  Others believe it's my videos.  I've also heard things like, She just chose the right niche, She had great timing, and my favorite…
She's just lucky. 😉
I actually think it's a combination of several reasons, but one thing people neglect to mention is my sheer desire and passion for what I do.  In fact, I believe that is the #1 reason I have done so well.
This "Internet Marketing stuff" isn't for everyone and you can't make yourself love it just because you want to make money.   If you can't find the joy, you may not be able to find the money.
So thank you, Rachel.  Your enthusiasm is refreshing and I have a feeling you will go far out here.
Remember folks, success starts with passion and the right attitude — not just the desire to make money.