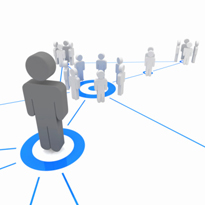 One of the most popular ways to promote your site is through social networking.
However, many of you are taking the "social" part out of the equation because you are relying too heavily on automation.
By automation I mean using various online tools and apps that automatically post content to multiple social networking sites at once.
Don't get me wrong, automation has its place and it can be immensely convenient, but it's not always the best way to announce all your content all the time.
I just created a FaceBook fan page last week and I've spent a great deal of time researching other successful/active pages.  One thing I've noticed is that most successful pages have the right mix of automation and personal interaction.
FaceBook vs. Twitter
While many people use FaceBook and Twitter to interact with people and websites, there are thousands of people who hate FaceBook but love Twitter and vice versa.  Not to mention, people use these sites very differently.
A lot of people like Twitter because they can get quick updates on their favorite people/sites.  They don't necessarily want to engage in lengthy discussions (not to mention the character limit makes that challenging anyway).
Then you have those who love FaceBook because of the personal interaction, and they love giving their opinions, getting involved in discussions, etc.
So while an automated tweet about your latest blog post is fine for Twitter, perhaps there's a better way to word this same update on your FaceBook fan page so you engage your fans.
You may want to manually post this update to FaceBook and follow up with a question or comment.
This often sparks comments, questions and discussion which can make your fan page more engaging/interactive (if that's your goal.)
This is about knowing your audience.  As a whole, FaceBook users have different expectations and behaviors than Twitter users.  So it's up to you to find the right mix and balance so you're getting the most out of each social networking scene.
Automation Isn't Always Bad
Now, I realize there may be times when automation is appropriate.  That's why I love the Selective Twitter FaceBook app.  It allows you to post selected Twitter content to your fan page by simply adding #fb to the end of your tweets.
You can install this app by visiting this link and selecting "Add to My Page." Then follow the instructions for linking it to your Twitter account.
It's easy to fall in love with all the apps and tools that automate content publishing, but don't rely on them so much that you appear too robotic and impersonal.
Remember, it's called social networking for a reason. 😉