Hello fellow website builders. Here is by far the best advice I can give anyone who wants to increase their traffic and visibility.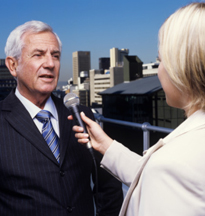 Interview people!
My website was growing ever so slowly until I started interviewing people for my website www.tips4running.com. Now my traffic has quadrupled in the last six months.
Here's why interviews are so effective…
1. Interviews are unique, original content.
2. They create a lot of traffic.
3. It's a super powered link exchange.
4. You can find new ways to monetize your site!
Want the details on all these points?  That's outstanding!  Let's review shall we?
1. Instead of rehashing other material that is found on the web, create your own buzz by interviewing people in your niche. Don't be afraid to go after some big fish too.
All you have to do is send out a kind email. If they don't respond, you lost a minute of your time. If they do respond, you're on your way.
Probably 50% of the people I ask to interview agree. I target two specific groups. The easier group to get are people who have their own websites. I interview runners who blog about their running or have a website dedicated to some aspect of running.
The other group is famous distance runners. I have been lucky enough to get some great interviews with great collegiate and Olympic runners.
2. When I post an interview on my site, my traffic numbers explode. I'll give you one example. I interviewed a very good collegiate runner and an excellent collegiate coach.
When the interview was up on my site, I would post a link to it on different running forums. People then start talking about the interview on these message boards, which means more and more people who didn't know about my site are visiting to read unique, original content.
3. An interview is a super powered link exchange because you might end up with more links than you ever imagined. Here's how I got two mega links!
First, I went to Alexa and looked at the most powerful sites in my niche.
In the running category, the third most popular site is called LetsRun. After a bit of reading and research, I found out this site is run by two brothers who are running fanatics. I emailed them and requested an interview.
One of them, Weldon Johnson, agreed.  After some more research, I sent Weldon about 15 specific questions.  When I finished the interview, I posted it at my site, and he did as well.
That day, I had a huge spike in traffic. Of course, days later the traffic receded, but the baseline was much higher than before.   Also my site was linked to one of the major running websites.
Fast forward two months.  Matt McCue, An author of a new running book contacted me.  He found out about my site from the interview with Weldon Johnson.
He asked if I would read his book, An Honorable Run, and review it.  I said yes if he would also do an interview. I read the book which was phenomenal by the way, and then interviewed him over the phone.
He had some great contacts for me that he shared with me after the interview.  I sent the interview to these people, and the interview was linked to by Runner's World. According to Alexa, Runner's World is the number one running website.
4. Another interview that I did led to some serious money. Marius Bakken is a former Olympic distance runner. He has a few running websites. I interviewed him and we exchanged links.
A few months later Marius contacted me because he wrote about running the marathon. He told me he was selling this book using Clickbank. I read it and reviewed the book for my site and became an affiliate for Marius Bakken's 100 Day Marathon Plan.
Now I make more money selling his eBook than I do with Adsense.  I didn't even think about selling eBooks until he contacted me. Marius Bakken would have never asked if I didn't interview him either.
Need any more proof that interviews are an avenue to pursue?