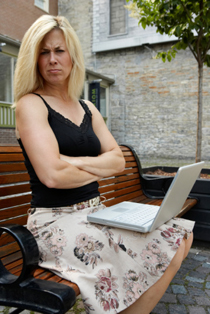 I received a comment from a reader who seemed disappointed that my blog comments are nofollow.
For those who don't know, nofollow means that my site's PageRank is not transferred to your site when you leave a comment along with a link to your site.
In other words, the link from my site to yours, has no influence on your backlinks and PageRank in the eyes of Google.
To make a link nofollow you simply add rel="nofollow" inside the href HTML code of your hyperlinks like this…
<a href="http://www.anysite.com" rel="nofollow">Name of Site</a>
I've never even considered making my comments dofollow (the opposite of nofollow).  In fact, WordPress 1.5 and higher automatically assigns the nofollow attribute to all comments, and most bloggers never bother to change this.
The major benefit of having a dofollow blog is you may get more comments.  Many bloggers seek out these blogs, and there are numerous directories that list dofollow sites.
The downside to using dofollow, however, is that you could be inundated with spam.  This also means you are flowing PageRank to potentially spammy/inappropriate sites, and this could hurt the reputation of your site in Google's eyes.
So to preserve and protect my reputation and PageRank with Google, I use nofollow for my comments and sponsor ads.
The Obsession Continues
My personal opinion is that the dofollow/nofollow issue is blown out of proportion.
Of course, a few dofollow links from some very relevant sites can positively impact your backlinks and PageRank, but is it worth spending hours per day looking for these sites when you could be using that time to focus more on building quality content?
At the end of the day, if your site is useful, fresh, unique and you are promoting it effectively, you will naturally earn plenty of voluntary dofollow links from other site owners who value your content.
There's nothing wrong with keeping track of your PageRank and backlinks, but when it becomes obsessive, you could be putting too much attention in the wrong areas.
Let's also not forget that you can still generate plenty of traffic from commenting on nofollow blogs.  Even though you may not be earning a backlink for SEO purposes, you can still build quite the traffic flow if you perfect your commenting strategy.  (See How to Write Killer Blog  Comments.)
Remember, you are not just working to please spiders.  Humans read blogs too, and capturing their attention is just as important.
I wish people would stop obsessing over dofollow links (especially on blogs).  Posting solid comments on nofollow blogs can still lead to dofollow links in the long run simply because people may value your site and recommend it to their readers.
The case study I posted last week is a great example.  Because Kiesha has an outstanding blog that I wanted to feature, she still earned a voluntary dofollow link from a relevant blog.
Why did I feature her?  Because she has an outstanding blog with fabulous content.  Thus she was rewarded with a dofollow link.  These are the results you get when you publish quality content.
You'll also find that you won't have to spend so much time actively seeking out dofollow links.  Instead, they will find you.
Even though my comments are nofollow, most links in my posts are not.  So I'm happy to reward and recommend sites that are worthy of a mention.
What Does Google Say About This?
Matt Cutts (Google's lead engineer) published a video about this a few months back, and it made me even more confident that I made the right decision about nofollow comments.
What's your blog's linking policy?  Why did you choose it?