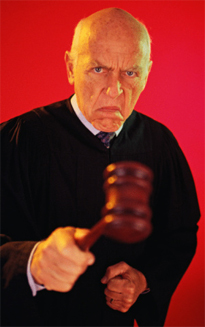 Is your first reaction, "Of course not!"?  Well, even if you think you're sure about this, I recommend you read on …
Webmasters use images all the time to create logos, help illustrate the point of a subject, break up text on a page or just to make a website more visually appealing.
But is use of these images legal? Maybe, maybe not.
What???
Here's the deal: If you use images obtained from the internet to create your logo or for use on your website, you could be guilty of copyright infringement and not even realize it.
Copyright infringement is illegal and can get you in a huge tub of hot water. While you might be "free" to use these images, there are still rules to be followed to ensure you don't infringe on copyrights.
There's a common misconception that if an image is out on the web it's "up for grabs." Even if you purchase a "stock" image, it's crucial that you adhere to an end-user license agreement.
Internet Images
I love how Google has its "Images" menu item. Whenever I want to see a picture of just about anything, I use Google Images to find what I'm looking for.
But while this may seem obvious to some, believe it or not too many webmasters will grab these images for their own use and republish them without permission. This is copyright infringement whether intentional or not.
If there's an image you want to republish, you MUST get express permission from the copyright owner before you can legally use it.
What Are Copyright Free Images?
The term "copyright free images" is overused and leads people into believing they can take these images and then call them their own. The only way you can stake claim to an image is if you create it yourself and it is truly an original.
If you Google "copyright free images" 930 million results are found. The truth is the only images that can really be deemed copyright free are those that are in the public domain because public domain works have no copyright.
And even though you are free to use an image from the public domain, it will always remain in the public domain, copyright cannot be restored, and it will never actually be yours.
How About Royalty Free Images?
First of all, understand that royalty-free does not mean copyright-free. If you use a royalty-free image, the creator of that image remains the copyright holder. And royalty-free doesn't necessarily mean free of charge.
Creators of images will often allow others to use their works for various purposes. For example, I used to publish a travel magazine and would sometimes publish pictures taken by professional photographers.
I would be charged a royalty fee based on my planned use of the photo. If I wanted to use the photo again in a different issue of the magazine, I'd have to pay the photographer another, separate royalty fee.
So what does "royalty-free" mean? It means you are free to use an image as many times you want without having to pay a separate fee for each use. Usually you will pay a one-time flat fee and can use the image as many times as you wish, as long as you adhere to the license agreement attached to it.
The terms of service and license agreement will spell out exactly how you are permitted to use an image. In shutterstock.com's license agreement you can use their images on websites up to 800×600 pixels without copyright notice or credit, but if you want to use an image on t-shirts for resale, you are required to have an "enhanced" license and must include a copyright notice and credit the creator.
In other words, they are giving you permission as long as you abide by their rules.
What About Free Graphics?
There are tons of free graphics available in software and on the web. A good example is Microsoft's free clip art. Anyone can use these images for whatever they want, right?
WRONG.  While Microsoft isn't charging you a fee, there are still terms of use with very specific restrictions on the use of these images.
Pretty much every free graphics resource will have some restriction on the use of their images. Some will require credit to the creator or inclusion of a copyright notice. Some even have watermarks embedded already so the copyright will always be included. Some will say you can use images for this but not that.
These Images Are Not Unique
Copyright-free, royalty-free and free graphics can be used by anyone. Even if you've paid for the use of an image, that doesn't take it "off the shelf" – tomorrow someone else can purchase it for their own use as well.
So if want an image for something like a logo and you want your logo to be one-of-a-kind, it's a bad idea to use anything other than an original creation. This is especially true if you intend to trademark your logo!
The only way to have truly unique and original images is to create them yourself or hire someone else to create them for you. But if you hire someone else, realize that artist will retain copyright of the creation unless you have a copyright assignment agreement.
What Can Happen if You Violate Copyrights
Copyright infringement is serious. If you're caught, at the very least you will be forced to remove the infringing images from publication.
If legal action is taken, you can be subject to a civil lawsuit in the copyright owner's jurisdiction and actual and statutory damages that could be financially devastating.
And with certain deliberate violations, you could be subject to criminal penalties carrying massive fines and long prison terms.
The Bottom Line
Plain and simple, don't take any chances. Don't use images you have no rights to without express permission, and read end-user license agreements carefully so you understand permissible use.
Lisa's Note: I use Photos.com for all my images. Yes, it's expensive but I have the piece of mind that I have rights to use my images commercially.
Be careful of the sites that say they are "free for commercial use" because often times every image source has not been verified.  Photos.com scans and verifies every single image to ensure they are clear for use.