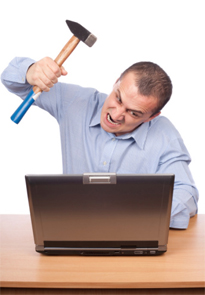 If there were any piece of advice I would offer to anyone starting a new venture in life, it would be this: court failure.
Failure is a dirty word in our culture. It has a potent negative connotation that sends chills up many a spine, mostly the spines of people who don't do much.
That's not a criticism but an observation. You cannot succeed without failures and you can't succeed without doing a lot of work. So if you're doing a lot of work, you're failing more than infrequently.
Good judgment comes from experience, and experience comes from bad judgment.
-Mark Twain
How to Court Failure
Every day that you get up and work toward a goal in a new arena, you are courting failure. You're inviting problems for which you don't yet have solutions, attempting tasks for which you don't yet have skills, and often planning a future that you don't yet know how you'll pay for. You'll make mistakes in most every category.
I started a new business this year. I literally can't count all the failures I've experienced in less than six months. But I'm still having fun so I hardly notice them.
That's not entirely true. Sometimes they hurt and made me kick myself. But I am comforted by the thought that when this happens, it's because I'm courting failure, a necessary action on the route to … to where exactly?
Another Dirty Word
I know you may be irritated with me for goin' all Zen on ya, but it is a fact that we spend so much time trying to categorize the actions of our lives into successes and failures that we miss a lot of life as it passes by every day.
Success is not the opposite of failure; it's merely the other end of the see-saw. When we persist in labeling success as failure's opposite, our focus becomes skewed and we live with an anxiety that saps the creative energy required to move forward.
We don't often stop to question where our definitions of success and failure come from. I'm not talking about the etymological origins but the sociological origins. Who imposes these ideas of success and failure upon us? No one, really. We willingly put them on like a hand-me-down coat and wear them like the king's robes.
Living by Choice
While sitting on my front steps after a run this morning, I caught myself ruminating somewhat anxiously about the future of my business. As I looked up at the early-morning spring sun glowing through verdant, newly-leafed trees, I suddenly decided, "I am going to live this day."
I wanted to simply experience the day in whatever form it arrived, watch how it interleaved itself with my life and my plans (or interrupted them), and just live. I wanted to acknowledge the uncertainty of tomorrow and the day after, knowing that it would be a sin to allow that uncertainty to mar today.
I was partly … "successful." On and off through the day, I prodded myself to come back to this thought, to this living in the day. Sometimes it worked and sometimes the rush of traffic beside me or the question of a stranger pulled me back into the swirl of ruminating about the future. But in those moments, I was successfully courting failure as well.
The degree with which we can live without anxiety about what a particular moment or event in life means is the measure of how much we actually live. One way to reduce the anxiety about whether or not we're successful is to be conscious of courting failure. When we truly see the value in failure, both success and failure assume equal weight, neither to be fully trusted nor feared nor expected to fill our every day. Neither is an end in itself.
Tomorrow, when you get up, try for just one day to court failure.
Lisa's Comments: I absolutely love this article because it not only applies to our websites, but our day to day lives.  Your perspective and attitude make all the difference.

If you interview every successful Internet marketer, I bet they will have stories of failure.  I have plenty.  Without them, I wouldn't be where I am today.  It's not how many times you fail, but what you do with the lessons that blossom from those failures.