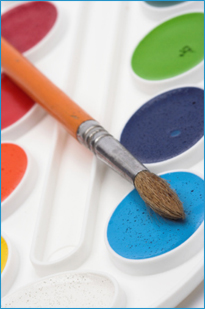 People often ask me what strategies work best for AdSense.  I always tell them that it varies from site to site and experimentation is key.
What works for someone else's blog may not work as well for yours.
Funny that I've been suggesting experimentation for years, but lately, I haven't really done much of it.  I guess I've become too comfortable with my earnings.
Note to self:  There's always room for improvement!
Well, I was browsing my Twitter feed last Wednesday and came across this tweet from @AdSense…

It made me realize how long it's been since I've experimented with color palettes on my units.  The tweet links to an AdSense help page on Google's site.  I must say, I've never read this page before.
Most of the information is common sense, but I was glad I came across this tweet because it reminded me that I should switch things up every now and then to deal with ad blindness.
So I did just that.  I changed the palette up a bit on the right navigation of 2 Create a Website.
Of course, I'll never really be able to confirm if any increase or decrease is a result of the change, but if I see an overall increase then this change certainly won't hurt anything right?
How often do you switch your color palettes (if at all)?