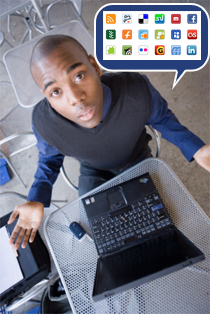 When I first started making money online in the late 90's, there was no such thing as social media.  My marketing strategy centered around the search engines.
I spent my days altering meta tags and on-page keywords trying to climb to the top of sites like Infoseek, Webcrawler, Excite, Lycos, HotBot and AltaVista.  (Memorieeeeees!)
The closest thing to social media was probably forums (known as message boards or bulletin boards back then) and chat rooms.
In 2010, there are so many more ways to promote your site, and many of the methods revolve around social media.
It provides many advantages for Internet marketers and allows us to network like never before.  Plus, thanks to smartphones, you're always connected to your audience.
Stories, websites and e-books about social media success are everywhere.  There are even people like Maria Andros who built their entire business using Twitter, MySpace, YouTube and Facebook.
Then there's the other side of the coin.  What about those who spend hours on social media websites, but never see results?  They often conclude social media is a waste of time and more of a distraction.
So what gives?  Why are people like Maria able to get all of their business and exposure through social media while other people struggle to see any results?
To put it simply, it boils down to strategy and execution.  If you are going to depend on social media for success, you have to use it consistently and everything you do should be based around your overall strategy.
Some would say that posting a few links on Twitter every so often is not really much of a social media strategy if you want solid results.  Study people who have built their business on social media and you'll see they do much more than that.
They post consistently (multiple times per day), hold contests, engage their followers by polling, asking questions, they start meaningful discussions, network with other users, etc.  Some even share their personal lives to help their audience connect with them.
I would consider myself a very light social media user and I'm far from a social media expert.  To be honest, I'm not exactly in love with it like many affiliate marketers.
By the way, I love how the title social media expert gets thrown around nowadays.  What are the qualifications for earning that title anyway? Is there a certain number of followers you have to reach?  Do you have to use a minimum number of social media sites?  It just seems like one of the buzz words people like to throw around.
Anyway, I digress…
I use social media to promote blog posts, videos, share thoughts, answer questions, etc. but I don't really spend much time on complex strategies.
Not that I don't think social media is useful, it's just never been a large component of my marketing plan.  And the great thing about the Internet is that it doesn't have to be.
However, if you want to become good at social media marketing and you want results, you have to be consistent and develop a strategy instead of just making random posts/updates once in a while.
What are your thoughts on social media?  How does it play into your marketing strategy?  Do you find it more distracting than helpful?  Also, if you just started your website in the last couple of years, do you think you have to master social media in order to succeed?