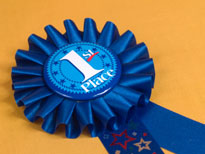 Don't overlook contests as a fun and effective way to generate ideas, build content and promote your site.
For the past 2 years, I've run an annual contest on my website that has resulted in over 1,000 product reviews, increased traffic and higher ranking in Google for specific keywords.
My contests have also helped me develop relationships with potential advertisers and gain notoriety within my niche.
Here are 5 tips for running successful contests:
1.   Decide what you want to accomplish.
Design your contest with a clear goal in mind.  For example, you could have your visitors provide you with ideas, complete a survey, design a logo, follow you on Twitter or Facebook, subscribe to your newsletter, tell others about your site or create content (stories, reviews, tips, etc.) for your site.
Choose one or two objectives so you don't overwhelm your readers with too many options.  During my contest, I focus on content and promotion.
I ask my visitors to write detailed reviews of specific products.  If they help me promote the contest by linking to my website, they receive an additional contest entry.
2.  Know your audience. What interests your visitors?
What will motivate them to participate in your contest? Are they excited by the prospect of sharing their opinions and expertise, displaying a particular skill, sharing stories and photos, or helping others?
What will encourage them to return to your site again and again?  Design your contest with your niche in mind.
If you have a website about cooking, you will probably get more participation if you have your readers submit recipes or review cooking utensils instead of asking them to design a header for your site.
3.  Make participation worthwhile.
Choose a high-quality contest prize that visitors can't resist.  Remember, your reputation is on the line, so don't be afraid to spend a little money in this area.  If all else fails, gift certificates are always a hit!
In addition to making your prize enticing, consider awarding more than one prize.  Multiple prizes make people feel they have more of an opportunity to win and they also make your contest look bigger, thus generating more excitement. During my last contest I gave away 20 prizes ranging in value from $15.95 to $150.
Drawing on the previous year's success, I e-mailed companies that sell products in my niche to provide details about my last contest, my traffic level, and my rank in Google for profitable keywords.
I offered 2 levels of sponsorship (total prize value of either $50 or $100) in exchange for featuring the companies on my contest page and newsletter.  I also mentioned my sponsors in announcements on Facebook and Twitter, and in relevant forums and yahoo groups.
Here's a screenshot of my contest page that lists prizes and sponsors: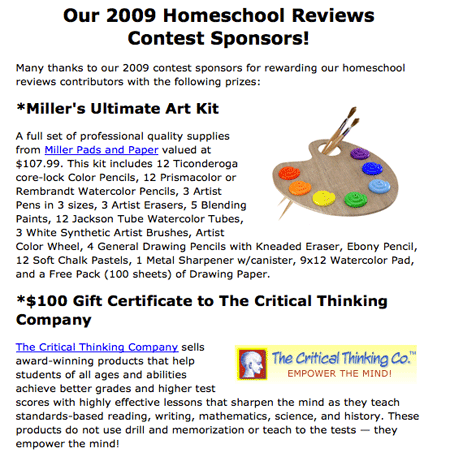 4.  Promote, Promote, Promote!
One of the most common complaints about contests is lack of participation.  Only a small percentage of those who know about your contest will take the time to participate.  So unless you have a significant number of very loyal followers, you must promote your contest aggressively.
I generally promote my contest by placing a banner on my blog and homepage, sending a special announcement to my newsletter subscribers, posting on forums in which I am an active and valued participant, and posting on contest blogs.
I also spend hours e-mailing the owners of relevant Yahoo groups to see if they will pass the information along to those on their lists.  You can promote your contest anywhere you find members of your niche.
However, remember to promote your contest with integrity.  Don't spam!
5.  Be professional.
Write guidelines for your contest that include a beginning/ending date, an explanation for how the prize(s) will be awarded and details about what constitutes a valid entry.
Don't be afraid to reject an entry that does not meet your criteria.  My contest guidelines state that all reviews must contain at least 3 likes and 1 dislike.  If I receive an entry that does not fit these criteria, I either delete it or I ask the participant to edit his or her entry.
I use an Excel spreadsheet similar to the one pictured below to keep track of contest participants, their entries and their contact information.  Each entry is assigned a number and prizes are drawn using random.org.

Once the contest deadline has passed, select and contact your winner(s) and make arrangements to send the prize(s).   If your prizes were donated, send the sponsors an e-mail thanking them for participating and telling them about your amazing results.
Be as professional as possible so they will want to participate in your next contest and eventually buy ad space on your website!