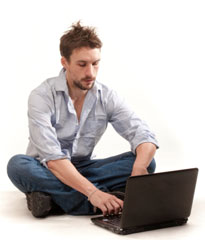 Due to the way blog posts are displayed by default, it's easy for your important content to get buried.
Here are some ways to highlight your blog's archives…
1) Showcase Related Posts
One of the major advantages blogs have over static websites is that you can easily sort/display content based on different criteria (date, category, tags, etc.)
For two years, I used one of the simple Recent Post plugins by WordPress to highlight related content below my posts.  I just switched to the popular Link Within plugin.  It's compatible with Blogger, WordPress and TypePad platforms.
I like the presentation better than the Recent Post plugin I was using before, and the graphics really make the content pop.  The relevancy is pretty good on most posts, but there is definite room for improvement.  (This post is one example.)
A lot of it may have to do with my tagging, but I really like that it seems to highlight my older posts.  This is something that the Related Posts plugin didn't do very well.
2) Choose a Day to Feature Archived Content
This week I'm going to start something new.  Every Wednesday I will highlight an older post and announce it on Twitter and my FaceBook fan page.  So be sure to look for my "Way Back Wednesday" links.
Remember, a good percentage of your audience has not followed your blog since inception.   Plus, people may miss some of your posts for different reasons.
I have posts that are more than 3 years old but are still very relevant today.  A lot of my older blog content has been buried and never read by the majority of you.
3) Cross-Link Your Posts
Once in a while I will go back to older posts and look for ways to link them to my newer posts (and vice versa.)  You can really increase your visitor page depth by cross-linking your content.
This is extremely important if you have a lot of posts.  Not only does it help cross-promote your content, but you may reap SEO benefits by creating additional inbound, keyword-rich links.
I haven't done this in a long time, so that is definitely on my to-do list for the week.
4) Create a Feature Post List
Surely you have posts that you feel are more important than others for various reasons.  I used the WordPress Categories feature to create the "Must Reads" listing on the right side of this blog. This allows me to call out posts I feel are important for you to read.
5) Add a "Most Commented" List
If you have several posts with a lot of comments, highlighting them will not only encourage more discussion, but it makes your blog look more active. This plugin allows you to display your most commented posts and/or pages.
Note: If you have WordPress 2.9 or higher, you don't really need a plugin.  So if you like to limit the use of plugins, check out this article for more details.
6) Monthly Archive Links
This is probably the most popular and easiest way to highlight older posts.  Both Blogger and WordPress make displaying your archives a snap.
I actually stopped using this feature because I prefer to use contextual links and plugins that highlight related posts.
I used to display my monthly archives, but I got very few click-thrus to older posts this way.  I'm not too surprised.  I rarely click through a blog's archives when they are listed by month or year.
I'm much more inclined to read older content when it's linked from relevant posts or listed as a related article below a post.
However, you may find this works for your blog.  It's one of those things that you have to experiment with to see what works best for you.
7) Wrap it Up!
Active blogs often publish weekly or monthly wrap-ups to highlight important posts, special promotions, etc.  If you blog multiple times per day or week, you may want to consider posting regular wrap-ups and make them accessible to your audience.
—————————————
How do you highlight your blog's archives?