Exactly two months ago today, Google launched their Google Instant (GI) technology.
As you type a keyword phrase into Google's search box, GI attempts to predict what you want to search for and populates keyword suggestions and results in real time.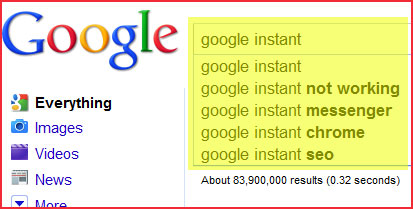 When GI first launched, many affiliate marketers were in an uproar.  Some claimed Google Instant was going to kill SEO and drastically hurt affiliate marketers.
Let's say you receive a lot of traffic from the phrase birthday party decorating tips and someone starts typing that phrase.  GI's suggestion could derail that search and cause the surfer to select a different keyword.
As a result, traffic from that keyword and other long-tail keywords could potentially decrease.
Misspell optimization is another area GI analysts have focused on. For years, people have been capitalizing on misspelled words by optimizing their pages and creating PPC campaigns for them.  This is one area that may be hurt by GI.
Try typing in the word Justin at Google.com. Before you even type "Bieber", (a name that that could easily be misspelled), GI populates the correct spelling.  Even if you try to misspell it, GI only suggests the correct spelling.
I wonder how many PPC-ers have adjusted or flat out deleted their "misspell campaigns" in light of Google Instant?
I Was Waiting for the Dust to Settle
I purposely did not blog about this in September when GI launched.  I knew there was going to be a bunch of panicky people predicting the worst before taking time to see what was going to happen.  So I just wanted to sit back and observe for a bit.
Because of how Google Instant works, you're naturally going to lose some traffic (especially long-tail keywords.)  But what about the traffic you gain when your site shows up in the results as the searcher is typing or when Google suggests a term that you rank high for?
I honestly think it balances out for the most part.
I compared my Google traffic before Instant launched to after.  Nothing much has changed.  I am receiving more traffic from certain keywords and less from others, but I have not seen a drastic difference in traffic overall.
The data collected by SEOmoz three weeks after Instant launched seems to support my own findings.
Bottom Line
It's always a good idea to keep abreast of new technology like this, but be careful about jumping to conclusions until you see how everything plays out.
So far Google Instant hasn't appeared to be the SEO killer many predicted, but it's definitely something to keep an eye on.
It's also a reminder of how important it is to diversify your traffic.  What if this really did have a negative impact on your traffic? Would your business survive?  If anything, this should be a reminder to never put all your eggs in one basket.
What do you think of Google Instant?  Has it changed the way you search?  Notice any changes in your traffic since the launch?