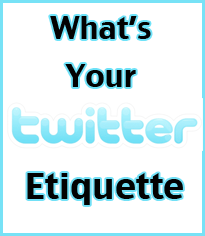 I'm probably shooting myself in the foot by writing this, because it could be taken the wrong way.  But I would really like some feedback on this issue.
One common Twitter strategy that seems to be growing in popularity is when people @mention someone to let them know they've been mentioned in an article they wrote.
The hope is that the person mentioned will then RT (retweet) the article to their followers.  It's a great strategy to get some exposure, especially if the person has a large following.
The other side of the story…
While it's generous to give back to the person sending the tweet with the @mention (which I've done a lot), I also think you have to balance it out.  Look at it from your follower's point of view.
For example, if Darren Rowse (111,000+ followers) RT-ed every tweet he was mentioned in, it may start to look a little braggadocious.  As a follower, I certainly wouldn't want to keep seeing RT's from him about him over and over again.  Of course, once in a while is fine.
Also, it's also hard to know if people are genuinely doing this because they want to give a shout out, or they just want the RT.  Plus, when others see you RT-ing someone else's tweet, they'll often go and write a quick article in hopes that you will do the same for them.
It can get out of hand when you start to develop a larger following because more people want you to RT their tweets.
On one hand, you could say this is great because it means more backlinks for your site, but I've noticed that the quality of some of the articles is mediocre so you have to wonder about the agenda of some people.  Although, I do believe most people are being gracious.
About a year ago, a nice lady sent me an @mention to an article she wrote and asked me to RT it.  It was a very kind article, but it was 2 paragraphs long and there were several typos and a couple of grammar issues.
I thanked her of course, but that particular RT would have probably turned many of my followers off due to the quality of the piece.  I don't want to appear ungrateful, but I believe you have to draw the line somewhere.
As I said above, I've probably just shot myself in the foot (no more @mentions for Lisa! 😉 ).  For the record, I'm not talking about anyone in particular here, and I certainly appreciate the love.  I've just been getting quite a few of these @mentions over the past few months, and I would genuinely love to know how you handle it.
My decision to RT (or not) is usually based on the quality of the article and my own RT frequency.  Of course, it's nice to let your followers know someone has mentioned your site, but you don't want to toot your own horn too often.  I also take note of how many times the same person sends an @mention.
What about you?  Do you RT every tweet that mentions you, your site or links to an article you're featured in?  Also, if you are the person creating the @mention, do you expect the person mentioned to RT it to their audience?
Share your Twitter-quette! 😉