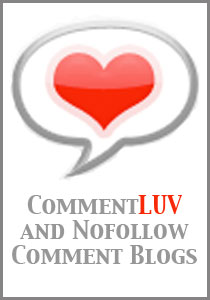 The fact that my blog comments are nofollow has been a real bone of contention with some of my readers.
So it was no surprise when I got an e-mail from Anthony of DFWRoofing who asks,  "You have CommentLuv enabled but you still give nofollow links out, what's going on?"
Oh boy.  Here we go again.
If you read my blog regularly, you know my feelings on dofollow vs. nofollow and that I believe the average blogger's obsession with backlinks, dofollow, etc. is getting dangerously near the point of insanity.
For the record, I'm not calling Anthony insane. After a couple of exchanges, he seems to be a very nice guy and admitted that he now understands my nofollow decision.  So this is not a bash-Anthony post.  I'm just talking in general terms here.  This was certainly not the first e-mail that questioned my reasons.

As a blogger who's achieved quite the following without actively hunting down dofollow links and only posting on blogs that allow dofollow, it's really hard for me to believe dofollow comments make that big a difference overall.  But maybe I'm completely off base here.
Now, don't get me wrong.  I understand why many blogs are dofollow…
1) It encourages more comments and can be a great idea if your blog is new and you want to encourage more discussions
2) It's a courteous gesture to offer a backlink to people who take the time to comment on your blog
I get all that.  I really, really do.
But there is actually a downside to offering dofollow links on your blog.  Matt Cutts even posted a video about it.  See below.
When you allow dofollow links, you are essentially "endorsing" every link on your blog by giving a backlink.  And when you're in a niche with a lot of scammy, seedy sites, this may not be the ideal scenario.
For the record, links in the body of my posts are dofollow.  The same goes for my guest posters. These are links I endorse/recommend so I happily spread a little link love around.
So for me, it's not that I want to be stingy or selfish by having nofollow comments. You guys know that's not my style. It's more about preservation of my own blog's reputation by not linking out to sites on pyramid schemes, get-rich-quick programs, porn and who knows what else.
My blog comments are nofollow mainly because that was the default when I installed WordPress.  And when I began reading about the pros and cons of dofollow, I felt the cons outweighed the pros so I left things "as is."  This is my personal decision and I believe you have to do what's best for your blog.
Many people know my comments are nofollow, yet they still comment because they know there's more value to commenting than just the "link juice" aspect.
And when you look at more popular blogs like ProBlogger and CopyBlogger, you'll see they also have nofollow comments. (Hmmm…. I wonder if they get as much heat about this as I do?) 😉
So Why Use CommentLuv?
Sorry about the nofollow/dofollow tangent I just went on.  Let's get back to Anthony's original point about using the CommentLuv plug-in when your comment links are nofollow.
Well here's what I want to know.  Whatever happened to people clicking links out of interest and curiosity because you wrote an attention-grabbing title that's relevant to their needs?
Has this dofollow obsession caused us to disregard that important aspect of Internet Marketing?
You guys have to remember. I got started in Internet Marketing when there was no such think as counting/measuring backlinks and nofollow was unheard of.
There was so much more emphasis on writing powerful headlines that got the click instead of today where it seems to be more about get the keyword-rich backlink.
Call me "old school", but I still value a good headline and will gladly click on one when it entices me. Don't you?
That's exactly how I found Jay of TheAntiSocialMedia (That's a dofollow link by the way.) 😉  Whether the blog I discovered him on was nofollow or not (I never check or care), he still got the visit (and a few comments) because he wrote a compelling title that I noticed because of the CommentLuv plug-in (dofollow or not).
Anthony told me he thought "the whole point of CommentLuv was to offer a dofollow link to posters who leave useful comments…"
So that's the whole point of CommentLuv?  Do you feel that way too?  Wow! That comment really made me realize how differently I view links from many bloggers and how little stock I put into dofollow comments.  To be honest, I think the CommentLuv plug-in still provides value to my commenters, but maybe many others don't feel that way.

Quite frankly, sometimes I feel like I'm stranded on some bizarre SEO island. Just me and my little nofollow links playing happily together in the sand. 😉
Whether the blog is dofollow or not, I've always thought the real value of CommentLuv was getting to display your latest blog post and attracting attention because of the headline.  After all, I've clicked on countless CommentLuv links because the author wrote a compelling title.
Sure, I understand the importance of dofollow links to a point, but things just seem to be blown out of proportion today.
Am I really that old school?  Do I need to step out of 1999, eject my "No Strings Attached" NSYNC CD and say "Bye, Bye, Bye" to my antiquated perceptions about links, SEO, etc? (Sorry, I couldn't resist.)
I know many of you disagree with my stance, but that's OK.  That's why I love topics like this because they bring out those hearty discussions.
So let's get to it!