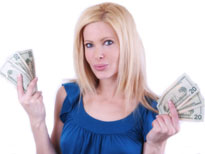 Every now and then I'll get a request to post information about my earnings, whether it be for AdSense, my overall earnings, or another affiliate program.
In fact, someone just asked about my AdSense income on my fan page yesterday.
I know.  I'm the one that started the curiosity.  When you show your earnings as I've done, some people want you to keep doing it, but I personally limit these kinds of posts and videos for two reasons:
1) Privacy
Even though I display a check or two every now and then, I've never disclosed my total income and don't plan on doing that any time soon.  I don't mind showing a good AdSense month here and there, but I prefer to keep much of the specifics to myself for certain reasons.
2) It Can Be Misconstrued as Bragging
Sometimes I worry about appearing too braggadocious. The original reason for doing those revealing income posts and videos is to inspire and build credibility.
With so many misleading "how to make money online" sites and videos, I want people to see that I'm actually walking the walk.  I also realize that revealing posts and videos like this generate a lot of viral traffic because people love to share them.
Some marketers even go as far as showing their cars, homes, etc. I personally think that's a bit excessive, but I understand it's marketing and it also builds interest, sales, etc.
Nevertheless, I'd like to know your thoughts on marketers who show how much they make online.  Is it inspiring?  When is it too much?
I don't think I've ever seen an in-depth discussion about this issue among marketers before, so let's start one!