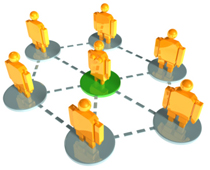 I'm a huge fanatic of The Sims game. Okay, that's an understatement – I admit that at one point I believe I was a tad addicted to the game.
I would pop the disk in and vow to spend no more than 30 minutes playing this game, only to discover that when I looked up again, hours had passed.
It wasn't uncommon for me to look up and find the clock reading 4 a.m. while still feeling as if I'd only begun playing the game.
The game was so intriguing because there were so many possibilities to experience things that weren't exactly possible in real life. It was so easy to get caught up and waste hours that added up to days spent playing this game while making no real progress in my own life.
But I've learned that it wasn't a total waste.  I learned some things playing that game that I should've learned years ago, but for whatever reason hadn't.  It taught me a great deal about social media that I hadn't thought of before.
It gave me a simplified version of how relationships are built. You'd think that since it's a game, anything goes when it comes to socializing your Sims – but that wasn't so, there was a pattern, that whenever it was violated, resulted in decreased friendship points.
For example, if you tried to skip the "getting to know each other phase" when it came to meeting new people and started picking more advanced social options, it would offend the other Sim, creating a negative interaction.
The same thing happens on Twitter and other social network sites.  Have you ever had a new follower DM you with a request to visit their blog or retweet a post of theirs? Or even worse, send you to an affiliate link?
If you'd had an opportunity to build a relationship and earn each other's trust, it wouldn't have been such a huge offense.
But when you barely know the person who's suddenly bombarding you with inquiries like this, it's easy to get annoyed – that's a negative interaction.
Depending on how many times this happens or how thin your patience is, you may end up unfollowing the person altogether.
Just as it is in this game, blogging relationships are also built step by step. The more nice things the Sim did for another Sim, the quicker a relationship was built. It's no different when it comes to blogging or interacting on Twitter.
Try retweeting someone else's posts, sharing their work on other networks, or even simply asking how they are doing, and pretty soon you'll discover them returning the favor.
If a Sim gained lots of friends, they were increasingly more likely to get promotions, new jobs, or breaks in their rent as a result of the friends they knew.
The more followers and subscribers a blogger has the more likely they were to be presented with huge favors and amazing opportunities.
On the other hand, if a Sim finally did manage to build a decent relationship, yet failed to maintain the relationship by spending time or calling the other Sim, eventually the friendship would fizzle until the two were no longer friends.
That meant less friends; less opportunities.
It's the same in the blogosphere – the more influential people you know, the more unexpected opportunities you'll receive. The more people you help, the more likely you'll be helped.
I know, it shouldn't have been rocket science for me and I should have learned everything there is to know about social media and interacting with other bloggers kindergarten, but I didn't. And from the huge amounts of spam I get, I suspect there are other late bloomers.
I'm in recovery now, and I haven't played this game in over a year.  But I've found it to be an extremely helpful guide when it comes to building beneficial blogging relationships.
What about you?  Do you have a favorite game that you enjoy playing that has taught you more about blogging and social media than you initally expected? Please share!