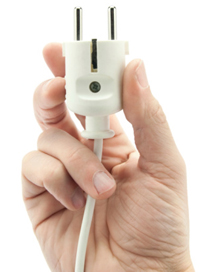 I did something last week that I rarely do…
I went an entire day without the Internet.   So that meant no checking e-mail, blog comments, forum posts, fan page comments, no tweeting…. nothing.
I can't lie.  It felt a little weird at first.  It seemed as if the world was moving on without me.  Sad, I know. 🙂
I never realized how much I impulsively log on to the Internet throughout the day  — even if it's just to check the lyrics of a song or to find a quick recipe for dessert.  But I quickly busied myself, and before long I started to realize this was the break I needed.
My day started with a relaxing massage, I finished some chores and tasks I had been putting off for months, went to Yoga class and had dinner with some old friends.
I ended the day at my favorite local Starbucks, curled up in a comfy chair while I sipped a Venti Soy Chai and read a mystery novel on my Kindle.  It was a day of pure relaxation and it was if my entire body sighed and said "Thank you!"
This day of relaxation carried into the next because I was so energized, felt refreshed and was extremely productive the next couple of days.
Even though I take quite a few vacations away from home throughout the year, my laptop is never far from my fingertips.  It's rare for me to completely unplug for a whole day, and it's definitely a sign of the times we live in.
I encourage you to assess how much time you spend online and/or connected to your cell phone.  I'm not an obsessive texter or cell phone user so that technology doesn't consume as much of my day, but my Internet hours definitely add up.
This break was not only good for my body, but it really helped get my creative juices flowing for some projects I'm working on.  I will definitely be adding more days like this to my routine.
When is the last time you unplugged so you can recharge your internal battery?