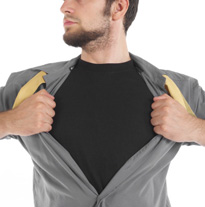 Over the last month I have been doing a lot of guest blogging after the release of my first eBook, Link Building Mastery. And I have discovered one major thing…
My guest blogging strategy needed some adjusting.

I understand the guest blogging credentials, it ticks all the boxes. You get highly relevant links from major sites in your niche that have a cult following and a lot of traffic.
Not only that but you get a whole article to sell yourself to these followers and your choice of anchor text in the multiple links that you are allowed in your author bio at the end of the page.
What could possibly go wrong?
How could a full-length article on the homepage of a blog getting 10,000 visitors per day not result in enough direct traffic to warrant writing the post? Well, let me share my guest blogging story:
I spent a lot of time, research and effort writing 5 guest posts for large blogs in my niche. I followed the same method and writing style that I learned from reading the numerous articles about guest blogging and the initial reaction was great.
All 5 posts were accepted and published relatively quickly with the exception of just one which was published 3 weeks after submitting.
The 5 posts were highly informative and relevant to the blog's audiences otherwise they wouldn't have been accepted. All the posts were viewed thousands of times by users and I received a lot of comments in the comments section, commending my efforts. So what's the problem you ask?
Well of those thousands of views, hundreds of comments and many well wishers, only 18 people visited my website.
Let me make that even more unbelievable. With 10 links that used descriptive anchor text in an action oriented part of the page (as seen from this Adsense hotspot map) from 5 highly relevant websites, with an average Alexa ranking of 19,068 and each post receiving on average 20 comments, I only got 18 visitors to my website.
That is an incredibly low click through rate from the thousands of people who viewed my articles.
What did I do then?
Did I sulk around and whine that guest blogging doesn't work and write angry guest posts about how guest blogging doesn't work? No.
Did I give up on guest blogging and mark the advice of hundreds of experienced marketers as false? No.
Did I ask, why the CTR was so low and solve the problem? Yes.
And the conclusion I came up with reveals one of the most powerful pieces of information you will hear about guest blogging.
You need to talk about yourself, your company, your product more in the body of guest posts. Obvious right?
The Proof:
I wrote a guest post for Ileane Smith of BasicBlogTips.com about my new eBook Link Building Mastery, it was effectively a large advertisement for the eBook although I did include some valuable free information.
As Ileane is one of my affiliates she allowed my guest post to be rather promotional, as I allowed her to use her affiliate links in the guest post.
What happened was incredible.  The post got 77 comments and the Alexa traffic ranking of the site is just over 50,000 — that's twice the average of the other sites I guest blogged on (remember the lower the ranking the more traffic the site gets).
And the number of people who have come to my site in the 20 days since I wrote this article is at 31.
And not only that but those 31 leads have generated 2 sales at $47 each, 50% going to me and 50% to Ileane.  From a site with far less traffic and a less relevant audience, I generated more leads and sales compared to the other 5 posts.
What was the difference?
In the other 5 I talked solely about the topic in hand and didn't talk about myself much.  The only selling I did was in the author bio.
Start Bragging More
The more you can talk about yourself without being too promotional in guest posts the better. In fact it's not about being promotional at all, just share your personal story. This gets the user hooked on you and leaves them with a feeling of wanting to hear more from you.
For all those Site Build It users out there, and I know lots of Lisa's followers are (I am both a Lisa follower and an SBIer), you will be familiar with the term PreSelling.
PreSelling basically means getting the user interested in you or your product without actually selling to them. For example I have mentioned my eBook's name a couple of times already in this post without promoting it at all.
These mentions leave a bedrock of trust and knowledge about a product so that when the sales pitch comes the user is more responsive, more likely to click and then go onto buy.
What happened with my guest post on basicblogtips.com was that I was allowed to PreSell my eBook all I want and then when I gave the sales pitch at the end of the post, people were more responsive.
Take Action!
For those of you out there who have not tried guest blogging, get out there and use it now. In fact head over to myblogguest.com to find some great blogs looking for writers like you.
And for all you failed or frustrated guest bloggers like I was, go and write another guest post, that shares your personal story and gives you personal experience. Users will hook onto your demonstrated knowledge and be more open to buying from you.
The major learning is: share your personal story, experience and PreSell your audience when guest blogging and you will be rewarded with streams of traffic and sales.
Lisa's Note: I couldn't agree more. Guest posts that illustrate examples from a personal experience make for more interesting posts.  They spark ideas, build interest, offer new perspectives and people are more likely to visit your site.  Also, when you provide useful information in the post, people don't mind you plugging your product occasionally. Bravo, Mark!