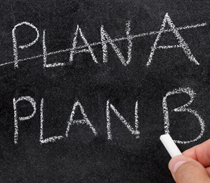 Everyone wants their own website or blog. That desire is one of the reasons why Lisa's 2CreateAWebSite.com has become one of the most popular websites on websites.
With the increasing number of automated tools available today, website building has become child's play as both a 16 and a 60 year old can equally as easily hop online instantly overnight.
That said, if your intention is entrepreneurial in that you have a profit motive in mind, it is critical that you plan your monetization mix before you build your website. Why?
Clarity
Planning leads to clarity, and having clarity helps you focus on the goal. It also ensures that you are building on a foundation that is meant to help you meet your objectives.
For example, you are not going to dig a 500 foot foundation if you want to build a single family colonial home. Similarly you won't dig a 50 foot foundation if want to erect a 1,000 foot high rise tower.
It is important that you think about the end goal or the objective of your website or blog so that you can plan your approach accordingly.
When I was relatively new to building websites, I attempted my hand at a website on God and Spirituality.  Although I was able to generate a decent amount of organic traffic, I hit a dead-end when it came time to monetize my website.
Little did I know that there were barely any vendors out there who were paying for advertisement relevant to my topic.  In addition, I couldn't come up with anything to sell to my readership.  Moreover, I wasn't capturing email addresses and had no way to contact my readers.
This was a classic example of failure resulting from my failure to plan.  I also lost a lot of valuable time in the process. It was however a solid learning experience.
Compatibility
Compatibility is another reason why planning your monetization mix is critical before you build.  But even without full clarity, many sometimes end up accidentally building high traffic websites similar to what I did, but hit a wall when it comes time to implementing certain systems within their website.
For example, when I build niche websites with the objective of generating revenues from advertisement, affiliate commissions and ebook sales, I know that a basic website will do the trick for me. However, this is not the case if I want to establish a full blown e-commerce business.
In 2005, I started an e-commerce website which I sold in 2007 for $250,000 to the second largest Power Seller on Ebay.  Was that an accident? Absolutely not.  The website was carefully thought out and built with compatibility in mind.
I knew that a basic site would not give me the functionality to achieve the user experience I wanted.  I knew that I needed an online shopping cart, a merchant account to process credit card transactions, a dynamic programming technology like PhP so that I wouldn't have to manually create 3,000 different web pages (one for each product) as well as a secured socket layer (SSL) certificate to encrypt and protect customer information.
Could I have succeeded had I dived in nose first with a static HTML website? Unlikely. Though possible, the retroactive work would have created more headaches than worth handling.
Clarity and Compatibility in Action
Before I started my Sue the Airline website, I was pretty clear on how I wanted to attract traffic and monetize the website.  I wanted to build a website that…
1) ranked high for the keyword(s) I knew people would search for if they wanted to sue an airline company
2) communicated my personal experience in a persuasive manner and
3) sold an e-book I had written to help others do as I did.
Because of clarity, I was able to select the most compatible resources.  To get the website to rank high for targeted keywords, I knew I had to go with a static HTML website that can best support my search engine optimization (SEO) and internet marketing strategies.
Moreover, because I knew my main product was going to be an e-book, I had to ensure ClickBank could easily be integrated.  Because I had no other intention for the website, I purposely selected a layout that was narrow to keep the reader's focus targeted on the centralized content.
A more involved example is the establishment of my Bamboo Plant Care website.  After confirming profit potential through market and keyword research when planning this website, I was clear on how I was going to make money from it.
I wanted a highly optimized website that made money from four sources, contextual advertisement, affiliate commissions, product sales and donations.
Because I was heavily relying on SEO to drive search traffic to my website, I chose a basic HTML platform to build the website on.  Because I wanted to make money displaying contextual ads and selling an e-book, I opted for a three column layout so that I could isolate the ads to the sides and highlight my e-book on one side.
I also knew that I needed a tool to establish a relationship with my readers, so I envisioned some isolated space on the right column of my website for a newsletter opt-in box.
I knew I needed tools like ClickBank to sell and distribute my e-book, and Aweber to build a relationship with my readers.  Understanding this early was critical and yet another reason why I opted for a simple HTML website built with a three column layout.
I realize that some of these planning points may come off rather simplistic to you and not quite big of a deal, but for a non-techie like myself, every bit can be more headache than warranted.
I am not technically savvy enough to make changes on the fly and have them look right.  I'd rather spare myself that hassle and focus on other activities that produce far greater results for me, such as planning out more niche sites, or writing on my blog.
Concluding Thoughts
In my years of playing in the online space, the single best suggestion I have for an aspiring entrepreneur is to give your website some thought before you build it.
Sure, it may evolve into a slightly different butterfly than what you had initially thought or intended, but by doing so you can maximize the possibility that its evolution is consistent with your intended objectives.
Before I conclude, let me reiterate an important point that I started off with.  This discussion is only relevant to you if your website's objective is to make money.  If your intention is purely pleasure, feel free to experiment and fly in the direction the wind takes you in.