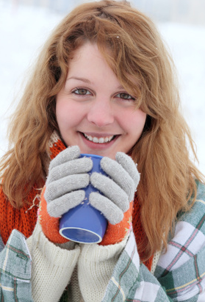 One key feature of the Web 2.0 world is that of building personal relationships.
We're moving from an environment where information is controlled by large, powerful, faceless corporations to a world where everyone can have an opinion and anyone can become an authority.
Profiles are raised. Friendships are built. And we learn from people not companies.
If you run a blog then it's essential not to forget the "personal" aspect of blogging. Too many blogs these days present information in a clear and easily-digestable format yet have no real "personality".
Those few blogs that are written by "real people" – people you can see, people you can understand, people you relate to – now these are the blogs that succeed. These are the blogs that rapidly build a large, passionate tribe of followers.
But what steps can you take to make your own more more personal and to let your readers really get to know and like you?
Create A Kick-Ass "About Me" Page
I run a number of blogs in different niches and never cease to be surprised by how many people visit my "about me" page each week. It seems that visitors in a Web 2.0 world *want* to know about the person behind the site so give them what they want.
Don't make the mistake of assuming that nobody will want to know who you are or that they're *only* there to read your blog posts.
Your readers want to know who *you* are. They want to know what makes you unique, what your experiences are and why they can trust what you're writing.
Heck, a few might even want to know what you look like (hint – try including at least one photo on your "about me" page).
Offer A Personal Introduction
If you met someone for the first time wouldn't it be natural to introduce yourself to them before you started chatting about internet security, dog training or whatever your particular interest is?
One way to make your blog more personal is to offer a short, to-the-point introduction to welcome new visitors to your site and quickly explain who you are and what your site is about.
Think of it as the "elevator pitch" for your blog or your "about me" page boiled down into a couple of sentences.
There are a number of ways to make that first introduction. The first is to put it at the top of your navigation menu so it's highly visible to new visitors.
The other is to use a WordPress plugin like What Would Seth Godin Do which will put your introduction at the top of each blog post but will only show it to new readers who don't know you yet rather than annoying existing readers with whom you've already built up a relationship.
Include Your Name In Your Posts
If you're using WordPress then a standard feature is the line that appears just under your post title that reads "Posted by Admin".
"Admin" – is that really your name?
How much better to build rapport with your readers if this line read "Posted by Matthew". Suddenly your readers know your name. They know you're a human being. And that you're proud of your work rather than trying to hide away behind a nameless title.
This little tip is easy enough to implement. Simply log into WordPress and visit the "Users" section. Here you'll find your profile where you can change the name that readers see in a matter of moments.
Gravatar-Enable Your Blog
Wikipedia defines an avatar as "the graphical representation of a user". Typically this is in the form of a photograph of yourself that is included by your name when you post in forums, on blogs and so on.
Gravatar is a free service that links your email address to an image of your choice so that nay time you use a Gravatar-enabled website and enter your email address you will find your chosen avatar pasted into the page.
How much nicer would it be when you're responding to comments on your blog if a large number of people – including yourself – all had a photograph of themselves next to their name.
This makes the conversation far more personal (or to put it another way – far less faceless) and enables both you and your visitors to get a better idea of who it is they are communicating with.
Include Personal Posts About Your Life
You blog to provide high-quality content to your readers but from time to time why not break off to make a more personal, "from the heart" post about yourself and your experiences as of late.
You could even create a special category for "personal posts" or simply lace your new posts with a few snippets of information about yourself.
Remember that the people you feel closest to – and have the greatest respect and affection for – are normally those people you know the most about.
And we're not just talking the good stuff either; admitting your weaknesses and mistakes can be just as important.
So be brave and open yourself up to your online audience. Let them glimpse the real you and I think you'll be surprised at the positive response you get from your honesty.
Share Your Social Networking Homes
If you are active on social networking sites like Facebook, Twitter, LinkedIn or YouTube then why not share the links to your profiles on your blog?
Doing so will allow readers who like what you have to say to connect with you in a deeper, more personal way. This not only makes you more "human", but thanks to the viral nature of many social networking sites, it can also help to spread your message far further than you may first imagine.
Create Videos Rather Than Just Text Content
I have nothing against text-based articles, but imagine how powerful it is to see someone in the flesh talking about a subject they are passionate about. You get to hear their accent, their tonation, to see the little facial expressions that make them unique.
Yes, I know talking to your camcorder can feel uncomfortable and you'll probably feel like a fool the first time you do it. But making video posts is not only great for making your blog more personal but can even make blogging quicker and more fun because you can simply turn on your camera and start talking then quickly upload your video to YouTube or Vimeo for easy distribution.
So now it's your turn. What techniques do you use to make your blog more personal?  What have you seen other bloggers doing that caught your attention?
Are there any key strategies you think I've missed?  Please leave your opinions in the comments box below…