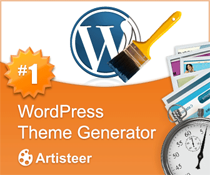 Yes, yes, I realize I'm late to the Artisteer party :), but it's been on my product review to-do list for ages.
If you use Blogger, WordPress, Joomla, Drupal or have a static website and need help designing or re-designing your site from scratch, this is the post for you!
Overall, I was pleasantly surprised with how easy it is to use, but I was even more impressed by the numerous design options offered.  Usually builders/design tools have limited design choices, but Artisteer has more than average.
I also love that it can be used on so many platforms.  Many design tools are for static websites only or dynamic websites only.  Artisteer is for static and dynamic sites, and the code is exported with the appropriate file/folder structure.
In other words, your WordPress site will be exported just like a WordPress theme with all your WordPress files (header.php, footer.php, stylesheet, etc.)  So all you have to do is upload the folder to your themes folder.
Other than the bloated CSS code it creates, it's a pretty solid tool.  And like with any design tool, the more comfortable you are with HTML and CSS, the more you'll be able to customize your design after using Artisteer to build your initial design.
See Artisteer in action below…
Download a free trial of Artisteer here.  Let me know how you like it!