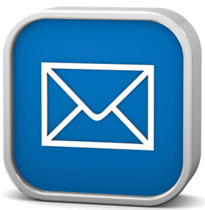 Obviously the short answer is "No."  Social media may have impacted the way we choose to get updates from our favorite sites, but people still make lots of money from their email lists.
Having said that, I personally read email newsletters less and less  — especially ones related to Internet marketing.  It seems that most of them are either sales pitches or they are sent too frequently.
If I do read a newsletter, I prefer it to be short, to the point and it should offer something different than the person's website content.
The other thing with email is that my inbox is always so cluttered with personal messages, notifications, spam, etc. I often miss the newsletters I may want to read.
Social media is just more convenient for me to get news and information.  With so many great apps that allow you to filter and sort how the information comes in, it's easier to follow the content I'm interested in.
Quick Note:  I don't consider a weekly blog email sent by Feedburner a newsletter since it's just an e-mail version of this blog post.  I'm referring to email newsletters in addition to/separate from Feedburner blog broadcasts.
How I Use My Newsletter Today
I was never been big on e-mail list marketing.  It took me awhile to get the hang of it because I didn't develop a strategy at first. As a result, my open rates were always dismal.  I never took the time to learn the art of email marketing…
…until recently!
Last year I revamped my newsletter strategy and now I only use it for news and announcements (product launches, advertising opps, etc.) When people sign up, the form specifies how I use the list, so it sets the subscriber's expectation.
So overall, I think e-mail marketing is still very much alive.  However, as the Internet evolves (social media) and people's attention spans get shorter and shorter, many marketers have had to adjust their e-mail strategies.
How about you?  Do you use e-mail marketing?  If so, has your strategy changed since the introduction of social media?  Have you noticed any significant trends with your list?
Perhaps you use social media and e-mail marketing on a regular basis to promote your business/announce updates?  How do your strategies differ?  I would love to hear from successful list marketers.  Please share!