If you follow my Facebook page, you may have seen the picture I posted last week of myself and Tai, who playfully calls himself "The Asian Wonder." 🙂  We met at a local WordPress meetup on September 24th.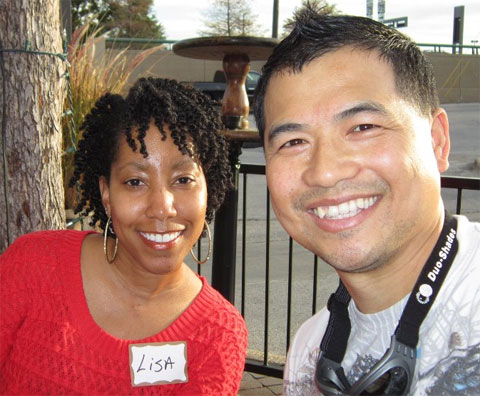 Tai approached me at the end of the session to let me know that he recognized me from YouTube.  He eagerly opened his laptop and revealed his recent earnings with the YouTube Partner program.
His excitement was refreshing, and he really wanted me to share his story with my audience.
Even though Tai's YouTube earnings aren't through the roof (yet), they are proof of what is possible.  If you can earn $30 per month then why can't you triple that next month, and then triple it again the following month?
I can recall my first $14 commission check I earned back in 1998.  I was still in college, so $14 felt like a million dollars. 🙂
And I remember thinking, "If I can make $14, I can make $28.  And when I made my first $100 I knew I could double that and so on.  There's something so motivating about seeing the fruits of your labor no matter how small the amount.
Tai's Story
You have to meet Tai in person to appreciate his energy, but you'll get a sense with his colorful e-mail below.
Yo Lisa,
It was good meeting you at the WordPress Meetup this past weekend!!!
Thanks for all your words of encouragement for a beginner such as myself in the internet marketing biz.
When I first got into internet marketing in late 2009, I thought that Adsense was a joke and a scam cuz I had never met anyone in real life who had made money from it.
But then I ran into your YouTube video on "How To Make Money With Google Adsense" at the beginning of this year and I liked how you kept it real and it didn't sound like a bunch of hype and B.S. so I put aside my limiting beliefs and gave it a try.
I don't have a lot of time because of my day job so I got motivated to do youtube videos for my fitness niche after I watched your "44 YouTube Videos & 8400 Subscribers" since it's easier for me to demonstrate on video how to work out versus writing about it.
I took my sweet ass time to implement your advice but after making over 80 youtube fitness videos, I finally got invited to monetize my youtube videos 4 months ago, however, my retarded ass never bothered to submit my videos to youtube for monetization until 2 months ago when I asked my girlfriend to set aside a day to submit all my fitness videos for monetization on 8-21-11 and BAM!…
Immediately I started making money the very NEXT day!  (See Below) I couldn't believe it!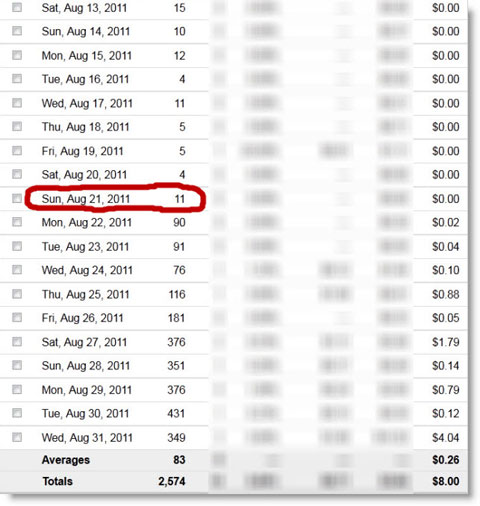 I know you and others have been saying it all along that it was not B.S., but for some reason it seemed more real when the adsense money started rolling in.
Now don't get me wrong, it's not a whole lot as you can see in the screenshot below, however, it is a HUGE start for me and has boosted my confidence tremendously simply by knowing that I'm gonna be making at least $30/month of steady passive income without me having to do anything.  And it's only going to get better with time.  WHOOOPEEEE!!!!
I'm ballin' now! lol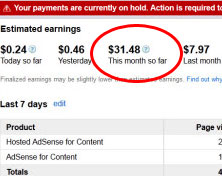 Looking back in retrospect, the biggest mistake I made when I first got started was I didn't have enough belief that it would work for me and the other thing was that I did not take enough ACTION!
Let your audience know that they got to get off their ass and TAKE ACTION!!!!!
Whoever takes more action and implements more of what you talk about will simply get more results.
I will keep you posted with my progress so that you'll know that someone out there is listening and taking action!!!  BOOYAH!!!
Peace
Tai "The Asian Wonder"
Your Online Personal Trainer
www.PersonalTrainerTai.com
I hope you weren't offended by Tai's choice of words, but I wanted to post the e-mail "as is" for effect and realness.   As you can probably tell, Tai's an energetic person and now he is channeling that energy to improve his online business through video.
Just Do It!
The biggest takeaway from Tai's story is obviously, just do it!  Even if you have no interest in YouTube and the partner program, this message can apply to any venture.
How many things have you put off because you feared failure or you assumed it wouldn't work?   Are you sabotaging your business because you lack belief and confidence?
I hope Tai's story provides the motivation you need to get moving on tasks you've been putting off!