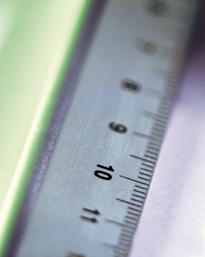 You have probably noticed all the short and pretty links on different blogs and Twitter by now. Perhaps you're unsure of which one you should use, or if it makes any difference.
But it does.
The main reasons people use URL shorteners are to make very long affiliate links shorter and prettier or to track clicks on the links, or both.
So here is a break down of the shorteners I am using and the reasoning behind it.
This shortener is connected to Clicky Web Analytics and you must have an account with them to use it. You can register for it for free, and you can even use the Web Analytics feature for free for one site. It is a great service and I highly recommend it.
Clicky.me isn't as busy as others so there is still chance you can get some really pretty links, for example I managed to get clicky.me/WPthesis for my affiliate link to the Thesis theme for WordPress, or clicky.me/wpstart for my affiliate link to Lisa's WordPress Starter Guide.
This shortener has a tracking feature so you can see how many clicks each link received. Also, you can use it to shorten Clickbank links which is a big advantage over some other shorteners (more on that below).
This shortener is a part of StumbleUpon and you must have an account with them to use it. Registering an account is free.
There are some great features you can use with Su.pr:
you can just shorten the URL
you can write a tweet or a Facebook update with the shortened URL and send it out
you can schedule the tweet or the update for a later time
The absolute winning feature of this shortener — when someone clicks on an URL shortened with Su.pr, at the top of the screen they will have a StumbleUpon toolbar which increases the chance of the page being "Liked" on Stumble and going viral.
This shortener has a tracking feature and you can use it to shorten Clickbank links.
Goo.gl is Google's URL shortener and you do not need to sign into your Google account to use it. However, if you want to build your URL history (which you should), then sign in before you shorten your URLs.
This shortener does have a tracking feature but don't use it to shorten Clickbank links because the URL will be disabled:

Bit.ly or Bitly.com is probably the most popular and used shortener out there. You can use it without registering or logging in, but if you want to have the history of clicks and links you should create an account.
You can customize your URLs but since it is so popular you will have to be very creative to get a name that hasn't been taken yet.
This shortener does have a tracking feature but don't use it to shorten Clickbank links because people who click on the shortened version of the URL will get a big warning (and you probably won't make a sale):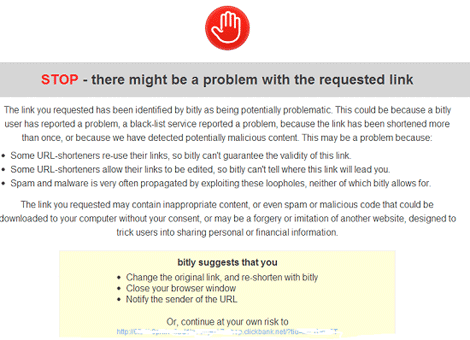 Other Options to Consider
Ow.ly is a shortener from HootSuite. You can use Hootsuite for free and they have a tracking feature for Ow.ly links.
Tiny.url or Tinyurl.com is a free shortener that you don't register for. It doesn't have tracking feature but it will let you customize the short version of URL if the "custom alias" hasn't been taken by someone else.
Two WordPress plugins that will do this for you are Simple URLs and PrettyLink. Note that Simple URLs stopped working for me with the WordPress 3.3 update so be selective about using plugins as a solution for shortening your links, because there is always a possibility for them to break.
Share-a-sale shortener is the best thing you can use for Shareasale affiliate links. Shareasale is a big network with products for any niche and most of the merchants over there will even have deep linking options (linking to specific product rather than the home or sales page) so you can really put their shortener to great use.
Conclusion
Like it or not, you are probably going to end up using shorteners even if you don't want to, for example when you tweet using HootSuite or some other management tool. So you might as well pick one shortener and use it all the time to track clicks on your links.
Another benefit is they help you memorize some of your custom affiliate links, like I can do with my Clicky.me examples above.
If you haven't paid much attention to this before, the start of the new year is the perfect time to give these shorteners a try and start making your links look pretty and track your marketing efforts.