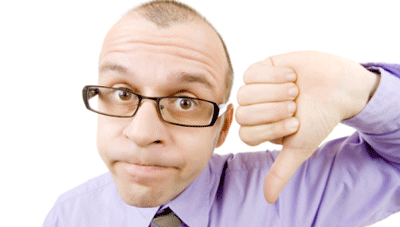 Last Thursday I published a video about rejection.  It struck a chord with many of you because it's something I think most of us can relate to as Bloggers/Webmasters in some form.
I told a story about a lady I was helping with her blog.  She was considering a slightly controversial topic and concerned about what people — particularly men — would think.  (Her topic involves relationships to an extent.)
I reminded her that you can't please all the people all the time.  There are always going to be critics, and you can't spend time worrying about who is NOT going to like your site.
My comments caught the attention of Chante from My Natural Motherhood Journey and prompted her to do a video response.
She touched upon an aspect of opening yourself up that I did not in my video….
The backlash.
And I'm not just talking about an article or two from someone who disagrees with you.  I'm talking about extreme forms of backlash where people go out of their way to discredit your content, publicly ridicule, or rally the troops against you.
Certain topics that are more controversial often yield extreme, emotional responses from people.  So if you're thinking of going online and sharing your opinions about certain topics, you have to be ready for what comes with it.
You may think that goes without saying, but it's a point I should have made in the video.  It's one thing if someone doesn't like the way you look or simply disagrees with your stance.
It's a whole other issue when people rally to get your Facebook page removed or harass you in some way.  Unfortunately some topics lend themselves to that kind of reaction.  Great points, Chante.
"Lisa, You Can't Relate."
In the video response, Chante suggested that I couldn't relate to getting backlash because I haven't had to deal with any criticism in my niche.
Well, I may not have had any accounts removed (Chante's example) or anything extreme, but I'm no stranger to criticism.
From being called the N-word many times on YouTube to being told that women shouldn't/can't teach programming, I've had my share of criticism over the years (especially on YouTube and via email).
It just goes to show that no matter what topic you choose, there will always be something for someone to say.   Sure, some topics evoke more criticism than others, but most people have to deal with it on some level.
And the more popular you become online, the more you will receive.  It's just the way it is.
In fact, one reason I wanted to do that video was because I have grown a lot over the years.  I used to be very concerned about what people thought and negative comments on YouTube used to really rattle me.
I've joked in the past about YouTube being like online therapy for me.  The more videos I made, the more comfortable I became.  Negative comments hardly phase me at all now.
So what about you?  Have you ever been afraid to reveal yourself or write about certain topics because you feared rejection or extreme forms of backlash that Chante referenced?
And if you have been criticized, how did you handle it?  Please share.