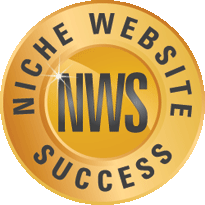 Affiliate Marketers Shouldn't Create Their Own Products!
Yep, that's what someone told me on YouTube when I asked my subscribers what kind of book they would like me to write.
My critic went on to say that I should not sell my own products because I already offer so much free advice.  What could I possibly put in a book that would be worth anyone's money?
He believes affiliate marketers should stick to selling other people's "stuff" instead of trying to create their own products.
I have to say.  That was probably one of the worst pieces of advice I've received in my 14 years of affiliate marketing.
If you want long-term success online, your ultimate goal should be to sell your own product(s).
From our exchange, I could tell he assumed I was just going to regurgitate everything on my site, throw it into a book and slap a price tag on it.  But what's so ironic about that is many people suggested I do just that!
Once again, I learned that oh-so-valuable lesson I wrote about last week…
YOU CAN'T PLEASE ALL THE PEOPLE ALL THE TIME.
Having said that, I understood his concern.  It was never my goal to just paraphrase my site and put it into a book.  I knew I had a lot of information and lessons tucked away that could be packaged up and presented.
So yes, there were a few naysayers who spoke out against product creation. However, the overwhelming majority requested a book on niche websites/affiliate marketing, and those are the people I listened to.
This was two years ago, but thanks to a very debilitating RSI (typing) injury I went through in 2009 and 2010, I was never able to start the book.  Writing for long periods of time was just too painful and I had other priorities that kept getting in the way.
I was also having trouble with the direction of the book, so I chalked it up to bad timing and decided to table the project until I was ready to dedicate my time to it.
Hello NWS!
Nevertheless, that is all behind me now, and I have completed Niche Website Success!  It's a very detailed, practical guide for creating a niche website and includes numerous strategies I've used over the years for building websites, AdSense, affiliate marketing, video and more.
And because I don't want you spending your hard-earned money on something you don't need, you can download the table of contents.  Check it out and browse the chapter info.
Want to Be an Affiliate?
The news just keeps getting sweeter!  If you have an audience that would benefit from Niche Website Success, I am offering a whopping 75% commission.  All you have to do is sign up with Clickbank (free) and grab the code to promote it on your website!  Click here for details.
Thanks for all the amazing feedback and testimonials you've sent me thus far.  I know it took forever to get this puppy out, but hopefully you'll find it worth the wait. 🙂
Check out Niche Website Success!
My Promise to You
The issue with launching products when you've been known to give away so much for free is people often worry you are going to start selling out or pitching your product down their throats every chance you get.
Let's hope you know me better than that.  I will continue to provide free resources, advice, tutorials, etc. as always.
I am simply diversifying my income as often suggested here on my blog.  Hopefully you are doing the same. 🙂