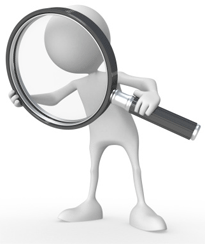 Have you ever written an article and wished you could find a better way to phrase something?
Do you sometimes repeat the same words in your copy over and over again?
I have these issues all the time and often find myself browsing an online thesaurus for word inspiration.
OneLook to the Rescue!
Well, thanks to a BlogCastFM Interview with Laura Belgray, I now have a more useful tool in my arsenal.
It's called OneLook – a free online dictionary that lets you perform a variety of different wildcard searches to find related words, concepts and phrases.
For example, let's say you want to write an alliteration, and you need three words that start with the letter g that mean "happy."
Simply type the query, g*:happy and the site will churn out the following results…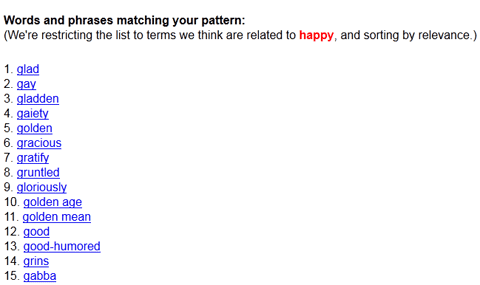 You can also seek out related phrases that begin with/contain certain words or match a given concept.
If you enter **happiness** OneLook will reveal phrases that contain the word happiness.
Pretty cool, huh?  I could play with this tool all day!
So the next time you find yourself stumped when you're writing, or you'd like to unearth a more interesting way to phrase something, fire up OneLook.
It's like a dictionary on steroids! 🙂
And while you're at it, you might as well tune into the BlogCastFM podcast.  It's chock full of actionable, noteworthy copywriting tips from Laura.  I really enjoyed it.
Are there any tools you use to help enhance your writing?  Do share!