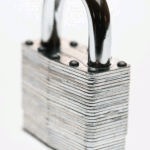 As some of you already know, I was planning to blog about my site's new theme and why I updated it, but I felt this topic was more important.
Unless you've been living under a rock, you've probably heard about Google's new privacy policy that will go into effect March 1, 2012.
There's been a lot of chatter about this on the Web over the past three weeks, so I've been sitting back absorbing all the info.
Like many people, you may have ignored the updated policy notice and/or clicked "Dismiss" because who wants to read all that fine print, right?
Besides, you aren't doing anything illegal or unethical online, so what's the big deal? They're just creating one policy that covers all their services.  What's the harm?
But, that's just it.
Google knows you won't read it clearly, and even if you do, you'll probably get tripped up on the legal speak (blah, blah, blah…. Neeeext!)
So What's New?
In a recent YouTube video, Google described the updated policy as one beautifully, simple experience.  The presentation was quite rosey and appeared as if Google is doing us all a great service as they simplify their privacy policy.
So what does it all mean?
Starting on March 1st, when you use any of Google's services (Calendar, Gmail, Search, Groups, etc.) they will collect and store that information to serve you with better advertising, search results, etc.
Doesn't sound like a huge deal, right? Isn't that how Google has been operating anyway?
For things like search and web browsing, yes, that is how it works today.  But on March 1st, that policy allows Google to collect and combine the data across all 60 Google services to better target ads and "improve your experience."
The problem is not so much about Google wanting to personalize your experience.  The bigger problem is the privacy issue should hackers or the wrong people get a hold of this information.
Let's say you're doing a research paper on fighting child pornography and you do a Google search to collect some information.  Maybe you even watch a few YouTube videos about people speaking out against it and send a couple of emails on the subject.
Now there is an online paper trail of you performing searches, watching videos and sending emails on child pornography that could be used against you should that data get into the wrong hands.
Now I realize this is a very extreme example, but I'm just providing one of the worst case scenarios for illustration purposes.
No Big Deal. I Can Just Opt Out, Right?
Yes, you actually can opt out and it's very easy to do.  Just log out of Google.
Problem solved, right?
For some maybe, but not for those who rely on a variety of Google services.  Logging out is just not an option for many people.
That's what bugs me the most.  You either opt out and stop using all of Google's services, or login and be forced to share everything you do. There's no way to use their services and opt out.
Of course, the reason Google did not give us that option is because they know everyone would do just that — thus defeating the whole purpose and agenda of the new policy.
Stay Informed
This post is not about trying to turn you away from Google.  I'm simply educating you on what the new policy means since you may have missed the fine print.
You have the right to be properly informed and make decisions that are appropriate for yourself and your business.
Some people have dropped Google's products altogether, while others have decided to ride with the new policy changes.
Nevertheless, I feel a sense of responsibility to educate since so many of you use multiple Google products these days.  Even if you're OK with the new policy and plan to do nothing, you should at least understand and be aware of it.
The Electronic Privacy Information Center (EPIC) filed a lawsuit against the FTC last Wednesday stating that Google's new policy is a "clear violation." However, Google insists they are not violating their user's privacy and does not intend to change how personal information is shared outside of Google.  You can read more here.
March 1st is fast approaching, so please share this with your followers and make sure they know what they are "accepting" when the new policy takes effect.
And if you agree that Google should allow you to opt out of their services upon logging in, please sign this petition. I did.
————————
So will this new policy change how you use Google and their services?  Are people blowing this all out of proportion? Please share your thoughts.