Update Nov 2012: Since this article was written, I have now switched to the Genesis Prose Theme and couldn't be happier with this mobile responsive design.  I no longer use WooThemes or Thesis.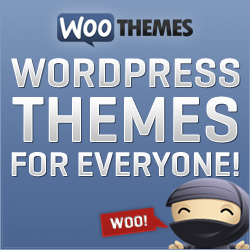 Ditched.
It's such a harsh word isn't it?
Nevertheless that's the verb many people have used in the past week when they noticed my new theme design.
Hey Lisa!  Why did you ditch Thesis?
Let me make one thing clear.  My move to another theme was less about any love lost for Thesis and more about finding what I needed in one theme and at the right time.
Update Nov 2012: Thesis 2.0 launched in October 2012 and in my opinion became less user friendly. I no longer recommend Thesis unless you are a developer. The reviews have not been good for the average WordPress user. Hopefully it will get better with updates, but for now, I recommend Genesis. That's the theme I'm using now. Check out all their themes here.
I was actually planning on installing a fresh copy of Thesis on my local WordPress testing platform so I could redesign from the default design, but for whatever reason I just wasn't in the mood.
My e-buddy Brankica highly recommended The Genesis Theme after using it for her new design — which I did eventually buy and used for NapturallyCurly.  However, I wanted something different for this site.
About two weeks ago I remembered a Facebook fan raving about WooThemes so I decided to check out their designs.  And while browsing through, it just so happened their Headlines theme had everything I wanted and more.
My wishlist for the new design included, but was not limited to…
Clean (more white space, fewer colors)
A customizable, all-in-one latest/popular post widget
Space for a banner ad in the header
Could I have accomplished all this with Thesis?  I sure could have, but not without more work than I cared to deal with at the time.
Not to mention, I fell in love with many of the additional WooTheme features I never even thought I wanted such as…
An animated feature post widget on the homepage (I will probably go back to a partial static homepage like before, but I haven't had time to tweak much yet.  I still think it's important for a blog homepage to have some static elements.)
Dynamic post thumbnail features
Tons of extra sidebar widgets, including ones for 125×125 ads, a Twitter feed, author box and more
It's also very AdSense-friendly with spots for AdSense in the header and top of the posts.  All you do is paste your code into the admin panel.  No plugins needed.
Shortcodes to easily add contact forms, social media icons/buttons info boxes, [highlight]highlighted text[/highlight], dividers and more right into your post by using the WOO button on the edit bar.
But Wait…
Now having said all those wonderful things about WooThemes, I can't lie. I immediately began missing several Thesis features.
Keep in mind, I had been using it for nearly three years, so it's easy to forget how many of the customizations were specific to the Thesis theme only.
I was spoiled! 🙂
For example, if I wanted to change the width of my sidebars and post area with Thesis, I just had to go to the Design Options menu and adjust the values.
With this theme, I'd have to edit the PHP files directly and begin fiddling with <div> values — which can get messy.
I also love how easy Thesis makes it easy to customize the smaller details like nav menu colors, site-wide font colors and sizes, post bylines/meta etc.
Fortunately I'm pretty comfortable with CSS, so the changes I made weren't that hard to pull off.  However, a CSS novice may have gotten stuck.
My Customizations
So the theme you're looking at now is pretty much Headlines out-of-the-box.  I did upload my own red nav bar image that I made in Photoshop because the original was too small and so was the text.
I also tweaked the header CSS to make room for a 728×90 AdSense banner.  The theme only allowed space for a 468×60 image.  Fortunately the banner was already coded in so it was an easy tweak.
Also, this particular theme does not have hooks — which makes it easier to customize or add elements to different parts of your site (after the post, before the comments, after the header, above the footer, etc.)
Thesis was a pioneer with the hook functionality, and many themes have adopted it since.  However, WooThemes does have a Hook Manager for their Canvas theme, just not this one.
So yes, Thesis definitely wins the "ease of customization" battle, however WooThemes delivered the overall feel I wanted with minimal tweaking.
For the record, I am not completely abandoning Thesis.  If Chris Pearson EVER releases version 2.0 (sigh), I may revisit again to test out the new features.  That's a perk of having free upgrades as a customer.
But I've got to say, making those few customizations in WooThemes made me appreciate some of the Thesis features I took for granted for the last few years.
In Summary
Most themes have pros and cons, and I find it hard to find one that I like out-of-the-box.
Unless you're going to code your theme from scratch (the ideal solution but not a desire for me) or hire someone, it's usually about finding one that gets close to what you want and then tweaking it after the install.
At least that's how I roll when it comes to WordPress themes. 🙂
Why I Don't Recommend Thesis Anymore
If you are interested in learning more about why I stopped recommending Thesis altogether, click here.