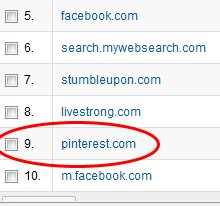 If you follow my blog regularly, you already know I never get too excited over the latest social media crazes.
However, it's really hard to ignore a website site that generated notable traffic even before I joined.
That's what happened with my Flat Stomach Exercises site and Pinterest — one of the fastest growing social media sites around today.
For the last three months, it has been one of my top 10 traffic sources for my Site Build It! site (see screenshot on the right), and I only became a member just a few weeks ago.
What is Pinterest?
In case you haven't heard, Pinterest is a social media site for images that allows you to "pin" (share) photos you find on the Web.
And what's really awesome about it is you don't have to become a member to reap the benefits.
If someone likes your article or a photo on your site, they can simply "Pin" it using the Pinterest toolbar.  The image will be posted to their board and will link back to your website.
So even if you have no intention of getting involved with yet another social media network, at least make sure you use high quality images that are free for commercial use on your pages.
You don't want to miss out on traffic from any of the 10 million+ monthly (and growing) Pinterest users who may decide to pin/share your content.
Why I'm Sold (For Now, Anyway)
Here's what excites me the most about Pinterest.  I'm a busy gal and I don't have time to devote to another social media site.  I'm sure you can relate.
However, the exposure my sites have received from the minimal amount of time and effort I've spent seems to be worth it so far.  Plus, it's kind of fun to use and very relevant to my hair website since it's a visual topic.
And what's cool about the network is people pin all kinds of content — even YouTube videos!
Watch the video below to hear my thoughts on the growing network, and check out my Pinterest SEO strategy for my latest site.
And if you don't want to hear me ramble, I wrote a more detailed article about Pinterest here. 🙂
Also, discover how I got one image to go semi-viral on Pinterest.