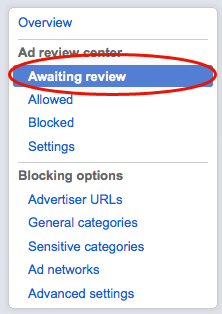 One of the biggest gripes I hear about AdSense is the minimal amount of control Publishers have over the ads that are shown.
Well, in case you haven't heard, Google is about to roll out a new version of their Ad Review Center (ARC).  Now you'll have even more control over the ads that appear on your site.
If you've already enabled the ARC, then you can review and approve ads that appear on your pages today, but soon you'll be able to do even more.
For example, instead of reviewing/blocking ads by group, you can review individual ads.
And for Placement-targeted ads (ads by advertisers who pay to place ads on your pages specifically), Google will show you the ads that will likely get the most number of impressions in advance.  So you'll know which ads your readers will see most.
Accessing The New Ad Review Center
If you're already using the ARC, the new functionality may be available now or will be available soon.
If you haven't used this feature yet, login to your AdSense account and click the Allow & Block tab. Now opt in to sign up.
You'll have to wait a week or so before the ARC becomes available after opting in.
Warning: Don't Minimize Your Earnings
Remember, there are two kinds of ads that appear on your site:  Contextual and Placement.
Even though you will be able to, Google recommends not putting Placement-targeted ads on "review status" because they won't be a part of the ad auction. 
This could potentially lower your overall earnings because you'll have fewer ads competing for real estate on your site.
The reason this is important is because one of the biggest keys to success with AdSense is attracting Placement-targeted advertisers.  They outbid the Contextual advertisers because they want to advertise on your site specifically, thus earning you more per click.
I don't have a very high click-thru rate with AdSense, but my sites attract a good amount of Placement advertisers and my Page RPM (revenue per page) for those ads is almost double the amount I'm earning for Contextual ads.
In English, that just means I am earning quite a bit per click for many of the ads I host, so it makes using AdSense very worthwhile and has even caused me to reconsider pricing for my 3rd party/private ads as of late.
Reminder: You can check how much you're earning for Placement ads by viewing the Targeting Types report in the Performance Reports section.
Even though I actually use AdSense less (number of units overall) and my click-thru rates have decreased over the years (probably due to ad blindness), my Page RPM keeps increasing and continues to drive my earnings up.
So always make sure your custom channels are targeted and available to advertisers who may want to advertise on your site specifically.
Once you're on this screen, click the name of the channel under the "Name" column and set the targeting to "yes" as indicated below.
Google wants to make sure your site is always available to Placement advertisers because that's how you and Google will make the most money.
That is why they recommend that you not place these ads on "review status" when the new ARC rolls out.  Of course, it's up to you, though.
Say What???
In case I've confused the heck out of you with the amount of detail here, don't worry.  You don't have to review the ads that appear on your site or even understand Placement-targeted advertising when this launches.
In fact, you don't ever have to open the Ad Review Center if you don't want to.
If you're perfectly happy with how AdSense is running on your pages, then just sit back and let Google do the ad management as they have in the past.
Nevertheless, if you're interested in having more control over the kinds of ads that show on your pages, the new Ad Review Center will be right up your alley.
And as far as Placement advertising goes, the take-home lesson is don't "hold" those ads for review.  Wait until they are live to review them so you don't drive down the cost of your ad space in the auction.
So what about you?  Has the new ARC rolled out to your account yet?