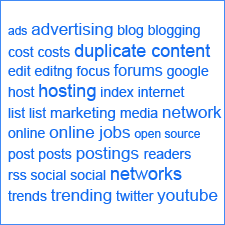 In the early days of WordPress, tag clouds were a very innovative way of revealing the popular tags you used for your posts.
There were even some SEO benefits to using them.  Anytime you could create anchor text to link to your content was always a good thing.
Today, the value of tag clouds seems virtually worthless from an SEO perspective.
I personally haven't used the widget in years, and when I did, it was only on my blog for a short time.
First of all, it isn't the most attractive looking widget.  I grew tired of gazing at the messy block of words floating in my sidebar.
Second, most clouds end up containing very similar words (plurals, synonyms etc.)  Or we stuff so many keywords into our posts, we force the cloud to display tags that are somewhat trivial.
If I want to show my most popular content, I'd rather use a widget that lists the actual titles instead of a hodgepodge of keywords.
I still run across blogs every now and then that use tag clouds, and I often wonder how much mileage they get from them.
Even Mashable used a tag cloud long after many blogs had ditched the widget, but I see they've retired it now.  Perhaps they realized how to make better use of that space.  Could it be that popular blogs get more use out of the cloud more than others?
What do you think?  Do you ever use tag clouds?  Do you have them on your blog?  Why or why not?
Also, how do you ensure your audience reads your most important content?