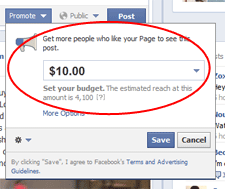 On the heels of Facebook's IPO bust, they launched a feature that now allows you to promote your Facebook posts so that more of your fans will see it.  (Your page must have at least 400 Likes.)
All promoted posts will show up as a "Sponsored Listing" in your fan's feeds.
Statistics have already proven that Facebook users generally ignore ads, and GM recently pulled their campaign due to poor performance.
Granted, this is a little different than a regular ad because the post will be showed to people who already "Like" your page, but anytime the word "Sponsored" is used, it has a promotional feel to it.
So I don't know about you, but this announcement didn't make me do any happy dances. 😉
Why Use It?
If you have a Facebook page, you've probably already noticed a limited percentage of your fans actually see your posts.  In fact, Facebook admitted that brand page content is only viewed by 16% of your fans on average.

This is due to many reasons – users not logged in when you post, they get lost in the shuffle of other posts and pages people "Like", etc.
And of course, the skeptic in me can't help but wonder if they are now ensuring your posts are shown to a limited number of people to encourage more ad spend.
Let's face it.  At the end of the day, it's about making money – anything to help their ailing stock, right?
According to FB, not only will this feature ensure more post visibility by giving it a sponsored label, but when your fans interact with the promoted post, it will be shown to their friends as well.
Is it Worth It?
Post promotion has its place, but I wouldn't just haphazardly use it without a solid plan.
Say you're having a huge promotion or contest for UK residents only.   Since you can target the post, you may consider testing it out for something like this because you can reach more relevant people.
You also have to consider the fundamentals of marketing.  More views is not necessarily better if you struggle with fan interaction and engagement to begin with.  Just like pay-per-click marketing or any kind of paid advertising, your content needs to convert for the campaign to be successful.
So if your paid Facebook post gives you 50% more views, but your engagement (likes, comments or whatever you're measuring) shows minimal results, technically that campaign was a failure.
So I wouldn't throw any dollars into any advertising until you have a real plan in mind and understand that the basic rules of marketing and engagement still apply.
So tell me.  Would you ever pay to promote your posts on Facebook?  Have you tried it yet?  What are your thoughts about this in general?  I'd love to hear from those who've tried it.