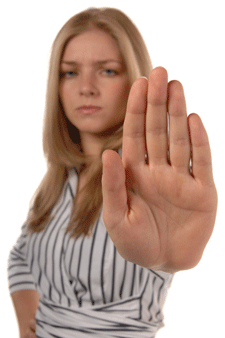 Hold it.  Let's put on the brakes for a moment.
After totaling up the amount of hours you spent marketing your site last week, you discover you've spent 4 hours on blog commenting, 3 hours posting to Facebook, 3 hours on Pinterest and 2 hours on article submissions.
It's been at least four months since you started this routine, but you're seeing minimal results.
You're frustrated and starting to wonder if you'll ever have some kind of breakthrough and you long for any signal that shows you're moving in the right direction.
So what now?
I understand the frustration.  There's so much information out here, it can be difficult for a new marketer to figure out where/how to start and what to focus on.
But there's also a false belief among many who feel that if they just put in X amount of hours, they will be guaranteed some kind of income.
I'm often asked, How many articles should I write before I start seeing X amount of traffic? or How much time before I make $X per month?
The truth is, this is not a gig that rewards you for the quantity of work or hours logged.  It's less about how much time you spend, and more about if you're using your time effectively and actively measuring the results.
Because if you're not careful, you can waste massive amounts of time on busy work that gets you nowhere.
Social Media
If you're just starting out with social media, my advice is to start with one or two sites instead of trying to master too many.  For example, if your site is visually-oriented and targeted toward women, Pinterest may be a great place to start.
And in case you haven't heard, they recently launched brand pages, so now you can create a business page for your site by either upgrading your existing account or creating a new one.
This growing network is now one of my top 3 traffic sources for my hair website.  And it's quality traffic that yields 4-5 page views per visit and a 50% bounce rate.
Remember, all traffic is not created equal, so it's important to measure what people are doing once they land on your site.  Maybe you received 50 visits from a campaign, but how valuable is that traffic if 90% of the people bounce and spend less than 10 seconds on your site?  Did you set a goal? Was it met? How's the engagement? Always measure the results so you can spend more time on what works and less time on what doesn't.
Now just because I'm recommending you start small doesn't mean you should ignore the rest of the major networks (Twitter, Facebook, Google Plus, LinkedIn, etc.)  Test them all and see which ones fit best with your business.
In fact, I highly recommend creating accounts with all the major sites just to protect your brand and establish a presence in case someone wants to reach out.
For example, I don't use Pinterest for this site, but I did create a business page just to grab the 2createawebsite name.
But if your site is not a fit for Pinterest, don't feel pressure to join and post pictures just because everyone's talking about how great it is for their site.  Pinterest may work well for someone else, but become a major time waster for you because of your niche.
For this site, I spend more time on Facebook because that's where I see results.  I track results from links I post compared to other networks and it just makes more sense to focus there.  I also receive the best engagement.
Do I completely ignore the other networks?  No, but I prioritize my time spent based on the benefits gained.
When I posted a link to my Clickbank guide a few weeks ago on Facebook, that link instantly received hundreds of visitors.  I don't get this kind of traffic from links I post on Twitter, but it is still very valuable to me because of the connections.
People often reach out to me with questions and I like being accessible.  So I may not see instant traffic rewards from Twitter like I get from Facebook, but being accessible still provides indirect benefits.
Understanding the roles the various networks play in your business will help you better prioritize your time and marketing.
Experiment with services like JustRetweet and find the right balance between automation (HootSuite) and manual interaction to determine what combo works best for your site.  And of course, everyone's strategy will be different.
SEO Time Wasters
This is an area where I feel people waste too much time today. Not because SEO is a waste, but many of the strategies we used to rely on have died/are dying.
SEO is becoming more and more manipulation proof.  In other words, activities that can be easily replicated will have less impact than they did before.
Anyone can submit a bunch of articles, forum signatures, amass oodles of links through schemes, submit to numerous directories, etc.  Spending hours per week on those activities will no longer give you the same benefits you may have realized years ago.
So you could spend your day chasing backlinks or write one really solid article for a popular blog like ProBlogger or Basic Blog Tips.
Of course, the idea is to guest post on blogs that are relevant to your niche.  Check MyBlogGuest to look for potential sites.
By the way, if you want to keep up with what's going on with SEO, subscribe to SEOMoz.  There's always current and useful information there — especially the Whiteboard Fridays.
A couple of weeks ago they published a thought-provoking post about how anchor text may be replaced by co-citation, thus impacting SEO even more in the near future.  Definitely worth a read.
Track Results and Feed Your Brain
So in the end, measuring the results from your efforts and educating yourself on what works/what doesn't with regards to marketing is one great way to stay focused and prevent you from spinning your wheels on activities that may leave you exhausted and feeling stuck.
Just because you are working hard doesn't mean you're working smart, and working smart starts with educating yourself so you can stay up on the changes in the industry.
If you are just blindly posting links everywhere and not tracking what's working and what's not, you could be headed down a long road of frustration.
Here are links to some useful articles that will help you stay on track and up to date with Internet Marketing today and in the future.
Search Engine Optimization
Post-Penguin SEO Link Building: The Naked (URL) Truth
How Your Social Media Reach Influences Your Google Rankings
Prediction:  Anchor Text is Dying and Will Be Replaced by Co-Citation
How Does Google Consider Sitewide Backlinks?
All Guest Posting is Not Beneficial for SEO
3 Quick Tips for Building a Solid SEO Foundation With Google Webmaster Tools
Google is Trying to Tell You Something, Are You Listening?
Social Media
40+ Tips on How to Become a Social Media Rockstar on Twitter, Facebook and Google+
The Best Times to Post to Facebook, Twitter, Google Plus etc.
7 Social Media Tactics Your 2013 Budget Needs to Succeed
Finally Achieving SEO Value From Google Plus
Email Marketing
The Future of Email Marketing (2012 Edition)
How to Use Email Segments to Get Higher Open Rates
5 Tips to Empower Your Email Marketing
Tracking
4 Ways to Measure Your Social Media Success
5 Simple Metrics to Track Your Social Media Efforts
How to Best Use Goals in Google Analytics
Using Social Reports in Google Analytics
Need a Dose of Inspiration and Fresh Marketing Ideas?
Since we're talking about strategies that work, I cannot close this post without giving a shout out to the BlogCastFM podcast.
Srinivas (the host) always manages to unearth successful, out-of-the-box thinkers you probably have never heard of before.
The interviews are always chock full of practical strategies and actionable advice that will shower you with fresh perspectives, ideas and inspiration.
If you ever feel like you're stuck in a marketing rut and are growing tired of reading the same ole' recycled tips, I guarantee you'll learn something new with each and every interview.   Definitely make room on your iPod for this podcast.
The Wrap Up
I realize the Internet is noisy and you may feel as if you have to learn everything today. Start small.  Focus on a couple of strategies and track results as you go along.  Remember, all busy work is not effective work.
And finally, always make time for education and inspiration.  The articles above will give you a good start on the education part, and BlogCastFM has enough inspiration to get you through the next few years…
At least. 😉
Here's to your success!