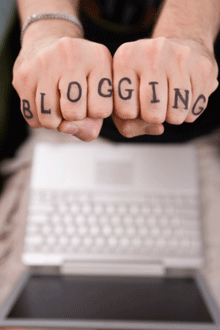 I received an email from a very frustrated blogger.
She purchased the Thesis WordPress theme through my affiliate link after watching my video I posted three years ago.
To put it mildly, she was NOT a happy camper, and was completely overwhelmed with how to customize her site.
The video she watched was for Thesis 1.0.  Since then, version 2.0 has been released and I've been reading through some of the reviews.
Overall, they haven't been too great.
So What Happened?
If you were following me in 2009 you know I was a HUGE fan of the theme.  I was even lucky enough to have my demo video posted on the Copyblogger homepage for a short time.
Commissions were flowing and everyone was singing the praises of the Thesis WordPress theme (including me since I was using the theme then).
At the time, Thesis was revolutionary.  As far as I knew, there were no other themes with drag and drop features and the amount of admin panel customizations.
I was so stoked because I could actually select the number of columns I wanted AND set the widths to specific values.  Not to mention there were a handful of other admin options no other themes came close to offering.
Along Comes 2.0
In October, Thesis 2.0 launched.  The reviews were less than impressive, but I wanted to give myself more time to actually use the theme more before I decided if I was going to continue recommending it.
So after I received the email from the frustrated blogger, I performed a new install on a "dummy" site.
All I have to say is I was incredibly surprised and overwhelmed by how different Thesis 2.0 is from 1.8.   I can tell the framework is powerful — way more powerful than 1.0, but the user interface is confusing.
I'm not exactly sure what I was expecting, but I certainly wasn't prepared to learn about packages, boxes, and holding down shift keys to drag containers.   Wow.
It's one of those things where you can see the potential because there are so many options and details, but it was going to require way more learning than I was prepared to do just to get my site to look how I wanted.
It was nothing like I expected it to be.  Perhaps as more skins are developed and better documentation surfaces, things will get smoother, but I just have no intention of diving into it anytime soon.
For the record, now that I've had time to thoroughly test Thesis, I added an annotation on the video stating I no longer recommend Thesis except for v. 1.0 and removed the affiliate link from the description.
Bye, Bye Commissions
From an affiliate standpoint, it was quite disappointing to drop the theme because let's face it, you can earn up to $65 per sale.  But I just can't keep recommending something I barely understand how to use.
In fact, a skeptic thought I dropped Thesis in favor of the Genesis for higher commissions…

Actually no, Ramsom.  I didn't receive a better offer.  I earn a lower commission with Genesis since it's cheaper, but Genesis is what I use now.
However, I'd be lying if I said I wasn't salivating over the opportunity to make another Thesis tutorial video and hopefully rack in those commissions like I did in 2009.
Oh well, not this time.  🙂
Still Want to Dive Into Thesis 2.0?
If you are interested in learning more about Thesis 2.0, there are some tutorials floating around from Kristarella that have helped people make better sense of the newer framework.
Hesham of FamousBloggers has produced some write-ups of Thesis 2.0.
He happens to be a fan and explains why some bloggers are having trouble wrapping their heads around the functionality of Thesis 2.0 in his article Why It's Hard to Understand Thesis.
For now, I'll just stick with the Genesis Prose Theme.  I love this theme. It's mobile responsive (meaning the layout auto adjusts for smaller devices) and has a lot of the admin panel customization options that Thesis 1.0 had.
Although, I have a feeling there will be better Thesis packages, skins and releases down the line that will make Thesis 2.0 much more user friendly.  Perhaps I'll give it another try later.
And from what I've read and seen, I actually do think Thesis continues to wear the revolutionary crown and is ahead of its time.  Unfortunately for the average WordPress user, this release may have been too far ahead.
What about you?  Have you made the switch to 2.0 yet?  What are your thoughts?