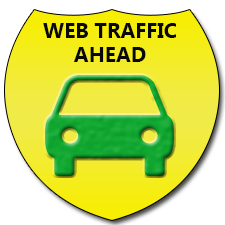 You may remember my post from last August titled 100,000 Monthly Page Views & No Backlink Building.
So I wanted to update you on the traffic to my hidden WordPress website I created in 2011 that I have been using to test how much organic traffic I can build without chasing backlinks.
It's been six months since that post and the traffic has increased by roughly 50,000 page views per month and you can see the comparison screenshots below…
August 2012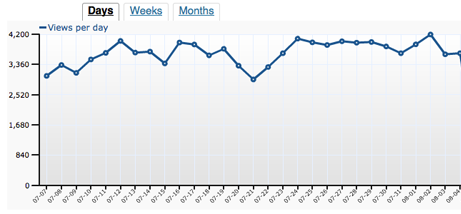 February 2013
Since the last post in August, I've added roughly 20 pages.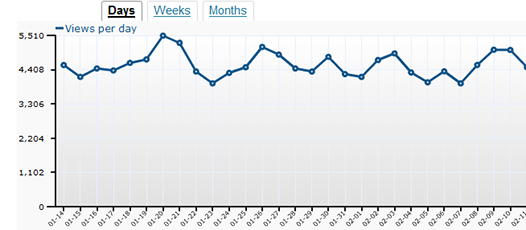 For the record, a few people were suspicious/curious about the tool I'm using to track the traffic because they didn't recognize the above graph.
It's the WordPress.com Stats Plugin.  I also use Google Analytics, but the WP plugin is just more convenient to check.  So just in case you're interested, the Google Analytics report looks about the same…

What?!?! No Backlinks???
The last post generated a bit of confusion.  People didn't understand how I could build so much organic traffic without backlinks.
For the record, I never said this site doesn't have backlinks.  Of course it does.  However, they were earned naturally.  The point is, I haven't been chasing or manually building backlinks through guest posting, linking schemes, etc.
I have simply been writing content and targeting longtail (less competitive) keywords.
I'm Not Alone
So I updated my traffic story on my forum, Website Babble, and it was good to see that other members are experiencing similar results.  Here are two replies from the thread…
From Seanguy75
Lisa this is a very cool post. Thanks for sharing your experience with this! Other than making a squidoo page early on that links to our site and literally only having our website address in one signature on one forum related to our niche, we have done no backlink building at all.

We are ranking #1 for our original keyword that I targeted at the beginning and #3 right now for another larger keyword in the niche. We are getting around 40,000-50,000 page views a month right now and hope to keep increasing this!

I have never done a guest post and have focused mainly on content and SEO. The SEO mainly being on page SEO. I tell my girlfriend who is actually my partner on the website now all the time about the things you recommend and how you do things. Cool post here and very encouraging for us!

It is funny, I was not expecting us to hit the top of our keyword as soon as we did so I have focused most of my efforts and research into content and basically how to get where we are now.

I told my girlfriend, wow I guess it is time for me to start researching and learning all about monetization now! We went from getting 10-40 visitors a day to 500-800 a day within a few weeks and have stayed in the upper amounts ever since. It has just been hitting me that we have enough traffic to really start doing something here now. LOL

Anyhow, most of this was done without any backlink chasing at all. I just never really got around to that. Once it became about content, it just has been about that ever since. Thank you for your ethics, your inspiration, your attentiveness to questions even though you must have a thousand or more a day and for this post!  Can't wait to hit 100k!
From emvy548
I do have a similar experience as seanguy75.

I have a website in a hard-fought photography related niche. I posted a lot of good content based on my experience as a freelance photographer (one of my hobbies), and also some research done on the web. I did not build any backlinks for this site and let it sit – pretty much forgot about it while I got tied into various other assignments.

A few months later I noticed that my website was ranking in the top 5 results for several two-word keyword phrases with two of them being in the top three. It is a simple site with pure content and no monetization – not even Adsense on this one.

I am planning to add more content and monetize it though, hoping at the same time that its stays afloat at the top!
You can join this conversation on Website Babble here.
The Take-Home
Let me make one thing clear.  Building a business that relies solely on SEO is a dangerous game.  That is not the point of this post.
If you've been following me long enough, you know that my business is not SEO dependent.  This is just an experiment.  I just want to show that yes, in 2013 it is still possible to build decent traffic without chasing backlinks.
Of course, a lot of variables have to come into play (niche choice, competition, the quality of the earned backlinks, etc.) however it is still possible.  Too many people today are still targeting competitive/broad keywords and their sites are not focused enough around a central theme.
And I actually think this site would have even more traffic had I done this experiment before Google started favoring brands in late 2010.  With this experiment specifically, it is quite evident how much brands get a lift in the SERPS.
So ranking for longtail (less competitive) keywords is where the traffic is coming from (just like Carl's Disney site).
Having said that, I'm not complaining. Getting 150,000 monthly page views (2300 daily uniques) is certainly nothing to sneeze at.
Thanks for the Feedback
I really enjoyed reading all your comments on the last post.  Many of you confirmed that you've experienced positive traffic results without chasing backlinks as well.
Keep the encouraging results and comments coming!