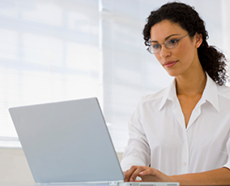 I am often asked about outsourcing content and if it should be done.
The answer is simply…
It depends.
People have different business models. Not everyone is a blogger or creates a website on a passion/interest.
For example, your core business may be podcasting, and perhaps that vehicle drives most of your sales. However, you could also have a website with a lot of general, fact-based content that supports your podcast, but is not essential to generating sales.
In this case, outsourcing certain kinds of content may be appropriate.
Personally, I prefer to write the majority of my content — especially on this blog where I often share my personal experiences, experiments, etc. I can tell you now, you won't see any outsourced content here.
However, since my business has diversified a bit to the offline world, I have discovered instances where outsourcing is necessary for certain kinds of informational content.
For the record, I don't consider guest posts to be outsourced content. I am talking about having someone else write an article as if it's coming from you.
Where to Go for Article Writing
There are many places to outsource content: Freelancer, oDesk, Elance, iWriter, etc.
However, I want to talk about Textbroker.com (no affiliation) because you don't hear as much about this site compared to the others, and I was pleasantly surprised with how fast and efficient the entire process was.
How Textbroker Works
First of all, it only takes a few minutes to setup an account. They are compatible with PayPal, so they use the escrow method where you deposit funds into your account to pay the authors once the work is complete.
After the quick account setup, you're ready to submit your article request.
Choosing The Order Type
One aspect I like about Textbroker is the selection of order types. So far I've only selected the Open Order, which puts your article into the pool for any author to grab.  The order types are explained below…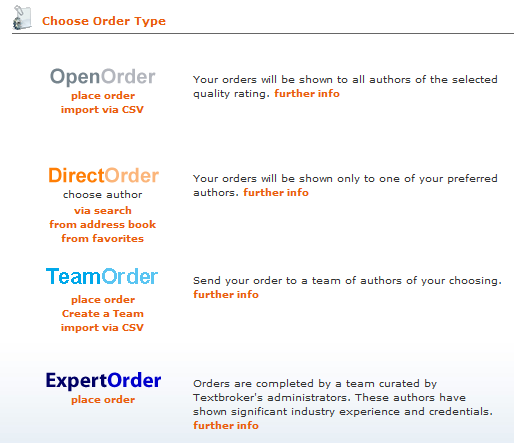 Choosing The Quality
I also like that you have control over the quality of your articles. There are 5 levels, with 1 being the lowest (cheapest) and 5 being the highest (most expensive per word).
A level 5 article is more than double the cost of a level 4, and since I personally tweak the content to fit my voice, I've found that a level 4 is sufficient for my needs.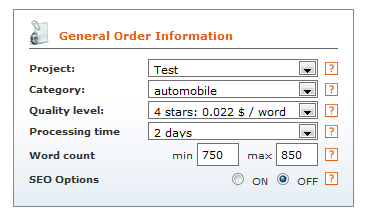 Just to give you an idea, a level 4 article that contains roughly 750 words is going to run around $16. Obviously there are cheaper services out there, but you often get what you pay for. I'm not necessarily looking for the cheapest solution, especially since I don't use these services often.
So far, the grammar and spelling in my articles have been perfect. Also, the authors have done a good job of following my directions for how the article should be written, organized, etc.
There's even an SEO option that allows you to set "required keywords" for your article. I prefer to handle my own SEO and see no reason to use this part of the service — especially with all the changes to SEO in recent months.
Completing The Order
If you're not happy with the article, you are free to send it back for corrections/revisions. Once you are satisfied, you can rate the work and release the payment to the author.
The Key to Outsourcing
If you're like me and prefer to write the majority of your content and want to ensure your voice is consistent throughout your site, I think you should use article outsourcing very sparingly.
As I've already mentioned, I prefer to tweak the article and add my own personal flare to make the content my own.
If a big part of your success has come from writing in your own tone and voice, you don't want to tarnish that by going overboard with outsourcing. The key is knowing when to do it and ensure the content flows with the rest of your work.
Having said that, outsourcing a few articles here and there has really been a big time saver for me now that I am continuing to diversify and work on other projects.
What about you? Do you outsource any of your articles? What has your experience been like? What service(s) do you use?